It should come as no surprise, that the colors you select for a design project weigh heavily on your overall satisfaction with the finished product. Fortunately, when you select flooring, you do not have to pick between a durable hardwood flooring that will last the test of time, and the color scheme you are dying to put in. Consider these color trends as a way to keep your space up-to-the-minute, without limiting your options.
Color Trends for 2017
This year, businesses are looking to set themselves apart from the competition through the use of their design. Color choices and styles are bigger and bolder. As a result, the most popular options tend to create a larger and more obvious sense of contrast, including black and white or blonde and espresso. For people looking for a color that is less likely to rock the boat, gray is also taking the world by storm as the current preferred neutral. The latest hues push the envelope into warmer tones, taking on the moniker "greige."
Blonde and Bold
A preference for blonde woods is an easy choice. First, lighter woods match almost anything. You can coordinate walls, cabinetry and furniture to a corresponding neutral color, or go bold with metallic or a natural green. As an additional benefit, blonde woods will show off a dye or stain more readily than darker species. If you long for the reddish blonde flavor of mahogany without the expense of an exotic hardwood, you can turn a wood like ash or birch into the color you desire, with the strength you must have in a commercial floor.
Gray, the New Neutral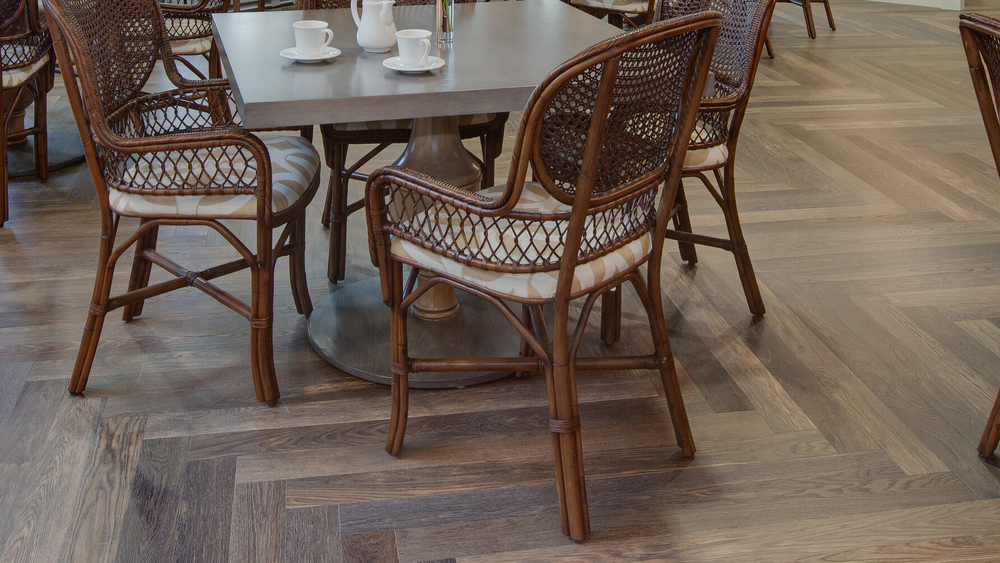 The great thing about neutrals is that they can really let you feature what you have. For a showroom floor, gray is absolutely beautiful. It does not take away attention from inventory. Gray woods and stains are light enough to show the awesome grain of the wood, but dark enough to avoid reflecting everything on the floor's surface. Although the current trend leads into all kinds of designs with varying shades of gray, you can also use the color as an accent for blonde colors or dark woods. Since warmer grays are the rage for 2017, it is an excellent opportunity to take a lighter wood with a hint of brown or gold and add gray for greater depth.
Bold and Contrasting with Dark and Light
It is no shock that dark woods have such appeal. They are less likely to reflect dirt or scratches, and they have great character. The darker the wood and the blacker the stain or dye, the brighter every other color or shade in the room will appear. Even the relatively light or medium tones of oak can be brought to the dark side with the right kind of dye, providing that classic look and feel with a modern color sense.
You could also reverse the two for a similarly striking effect. Select the lightest wood you can imagine, a species with a bleached effect and contrast it with cabinetry and furniture in a dark brown or black. The best part of this 21st Century approach to the a modern style is that you can get that deep black you want, without having to deal with the reflection that a solid black floor tends to show. With either of these combinations, you can select an accent piece for the space in a pale yellow or even a medium gray that will pop right out of the design.
Pleasing Patterns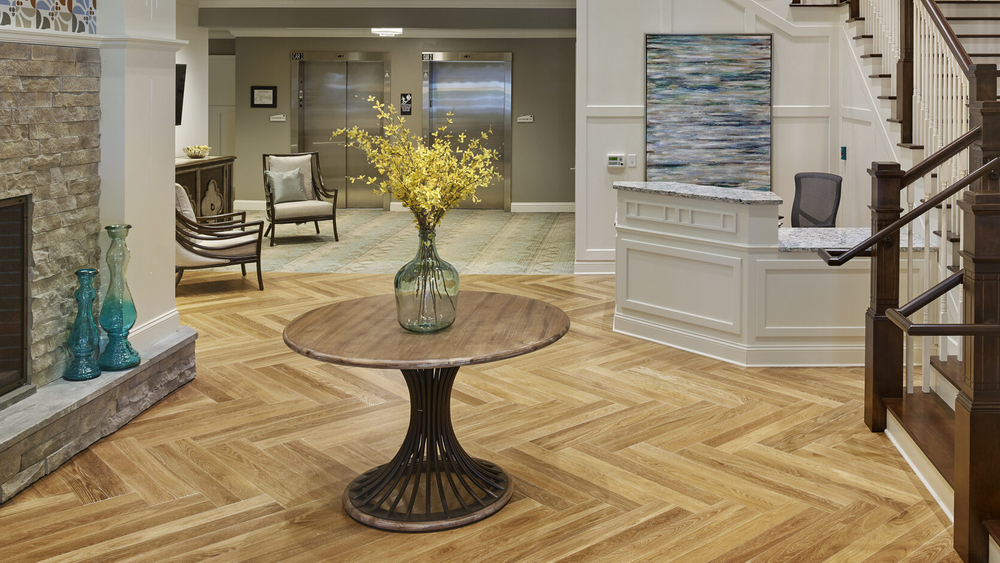 Of course, there are plenty of consumers who do not see a reason to choose just one color in flooring. Good thing for them, the classic flooring patterns of the mid-20th Century are back in action. Most people can picture the design of a parquet or herringbone style of flooring. The goal is the ultimate in contrast, with planks of different colors set together in a combination that can guide the eye of guests or customers, or even mimic a logo.
The right color in flooring can completely alter the image of the room, especially when paired creatively with fixtures, furniture and lighting. With a variety of choices in wood grains, stains and dyes, you can build a design that emphasizes what you want and distracts the eye in all the right ways. At Nydree Flooring, we can match your need for functional, durable flooring with the stylistic sense you crave.