As a new year begins we create new resolutions, set new goals, and of course, seek out new trends. While our personal lives may need refreshing, the projects we are designing deserve the same kind of attention. Infusing your spaces with what's en vogue can be tricky, but in 2020 we've got you covered. To help us make sense of it all, we spoke with Roche FitzGerald, designer and consultant with Roche Design*, about the residential and commercial design trends he predicts will be IN during 2020.
Get a head start on your New Year's projects with the top 5 interior design trends that will be IN this year. Bonus, top trends for wood flooring in 2020!


DECO LUXE — UNDERSTATED GLAM
This high texture and exotic trend has been gaining popularity the past several years but is destined to peak in 2020. An art deco revival with textured walls and heavily veined stone is highly luxurious but with restraint. With Japanese and European influence, Deco Luxe is elegant and speaks to high class.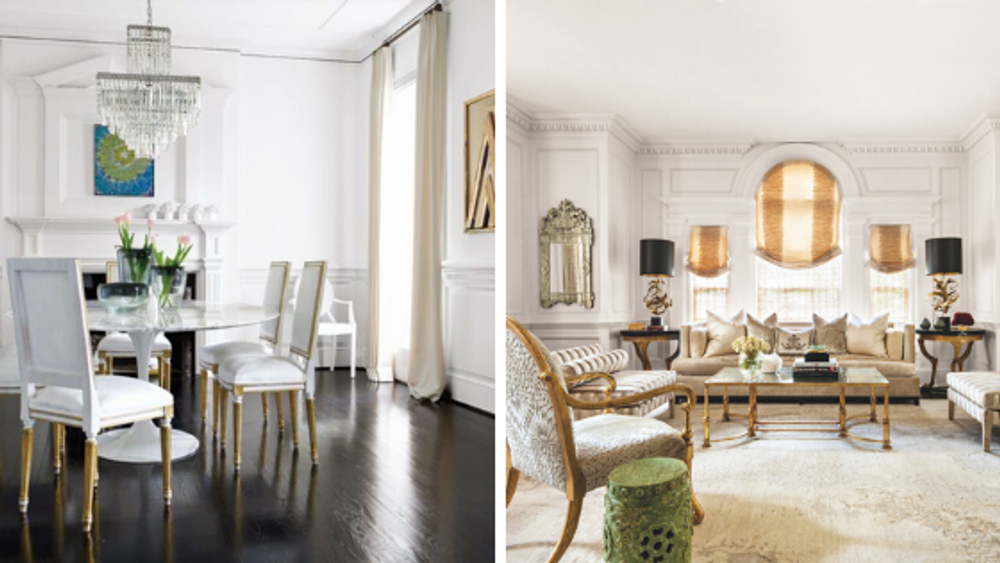 Photo Source: Luxe Interior + Designs
To style with wood, it's dark stains with high gloss, like Nydree's Maple Ebony Hardwood or Pristine Ravenwood.
TRIBAL BEAT — GLOBAL TREASURES
The tribal design has long been an inspiration in the world of interiors, bringing with it strong patterns, natural woven elements, and interesting art. Often tribal interiors revel in hot tones but the 2020 modern tribal trend takes a different direction. Taking the textures and materials typically found in tribal design but with a cool monochrome treatment and geometric shapes. It also has more of inspiration versus correct appropriation in the design with a major emphasis on natural materials and textures.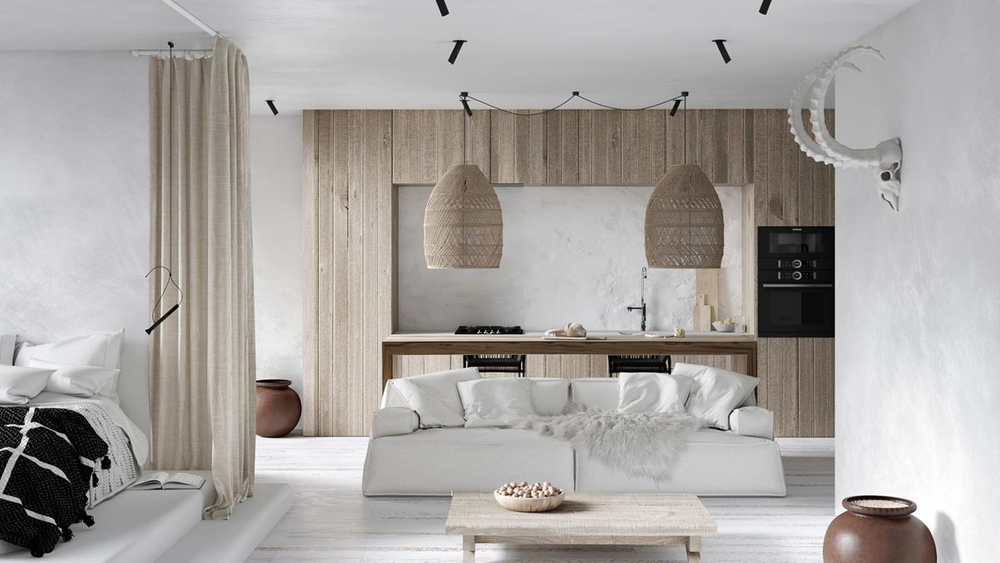 Photo Source: Home Designing
Wood flooring is a natural choice (pun intended) for this design trend. Wood with an imperfect, bone-like texture to fit this world-wide design scheme, such as Reclaimed Oak Cashmere Gray or Handcrafted Sea Salt.
COZY MODERN — WARM MINIMALISM
In 2020, this design is going one step further with the Scandinavian Modern design and pairing it with the authentic maker movement currently trending. This cozy minimalism is about community and sourcing materials from local and handmade goods. It's thoughtfully making your spaced feeling lived in, warm and raw, but sophisticated with layered warm textures and worn, matte metal all within a natural color palette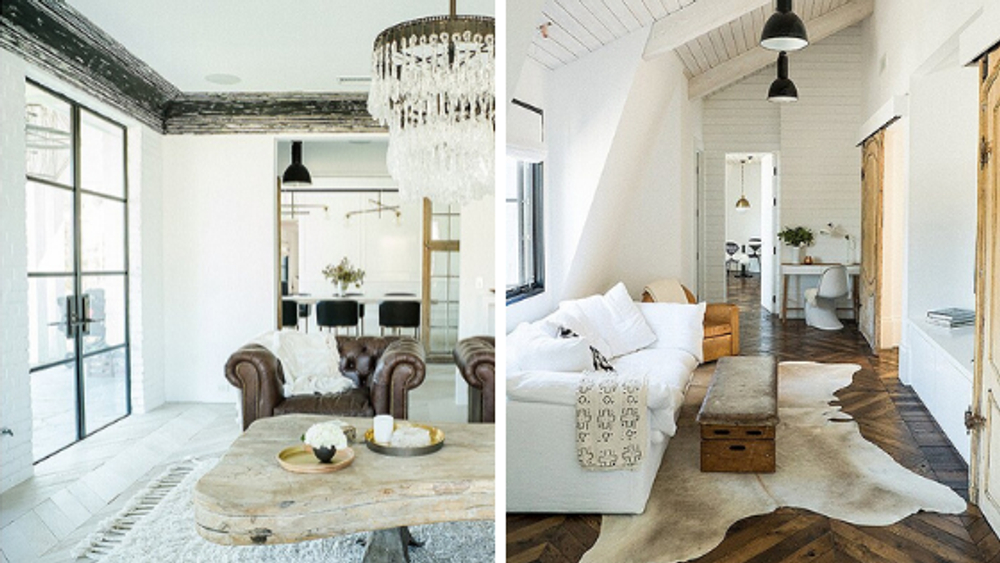 Photo Source: One Kings Lane
Pair this design with light woods, whitewashed with raw edges, like Nydree's Maverick Blue Ridge or Plainsawn White Oak Slightly Blue.
FLEMISH SOUL — DARK INKY MOOD
Dutch-style interiors strike a beautiful balance between traditional and contemporary. More polished than Shabby Chic and more sophisticated than Swedish Style, Belgian-inspired spaces have a restrained elegance that combines white lace, silk, and velvet but with inky colors and dark wood — modern aesthetic to create a simple and spare yet cozy and comfortable space. Gaining inspiration from the Dutch Masters — Van Gogh, Rembrandt, and Vermeer — Flemish design emulates a study of light and dark with leather, wood, and metals that age well.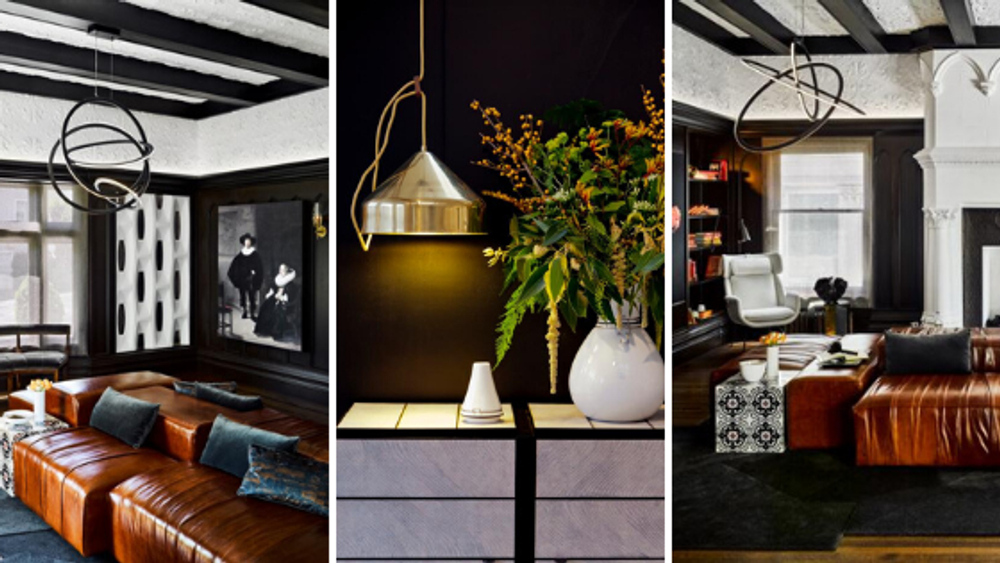 Photo Source — HGTV
To ground your Belgian-style interior design, wood flooring is the best choice. Nydree Rift & Quartered White Oak Natural or Pristine Steel Gray.
NEW NOSTALGIA — OFF-GRID DISPLAY
Out with the new and in with the old for a Nostalgia Design that is sure to be the hottest design in 2020. Catering to the Millennial generation. It's a style that blends patterns, deco antiques, alongside sociable spaces. Trends are notoriously cyclical, and the Nostalgia design brings back the rich colors of the 70s, patterns of the 60s, all blended together with personally curated collections, focused on items from off-grid travels.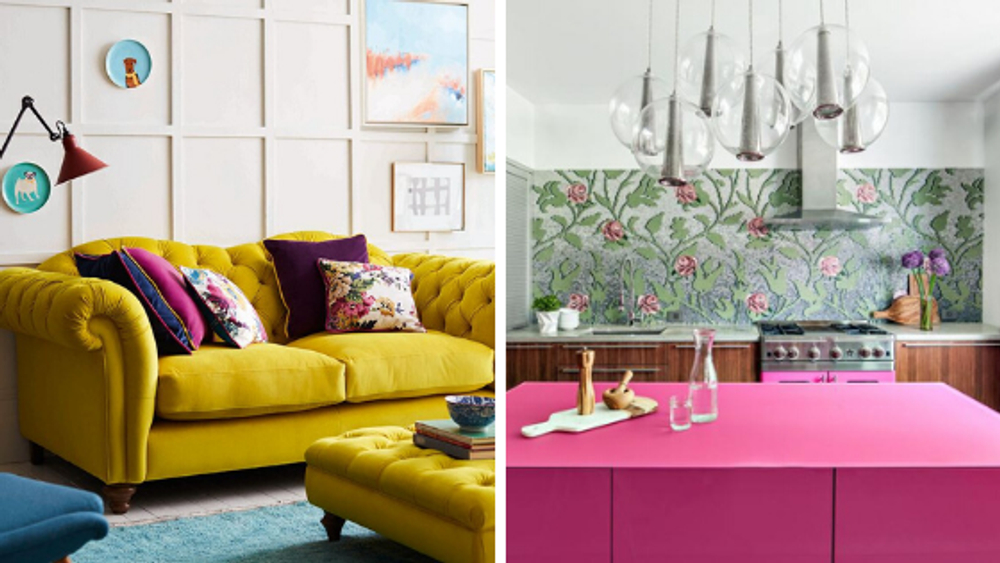 Photo Source: (L to R) House Beautiful, HGTV
With bright colors and patterns with Nostalgia design, wood flooring is a necessary organic layer every millennial will talk about. Choose Rift & Quartered White Oak Centennial or Plainsawn White Oak for a foundation that will only lift the design.


*Roche Design specializes in creating and marketing decorative surfaces for the commercial and home furnishing markets - wall covering, floor covering, countertops, ceiling, furniture, and textiles. Roche Design has developed and worked with many different manufacturing processes. Combining traditional knowledge with digital efficiency allows one to create a superior yet economical product. Work is taken from the concept of a design through the development and manufacturing process, and finally, into the market place.