Which part of a library or financial institution sees the most friction? Considering the major foot traffic in these public spaces, it's clear that flooring is the answer.
Nydree's portfolio contains three stunning projects in the Great White North of Canada. All of them display how it's possible to get the much-needed durability in flooring for public places while also elevating the room's aesthetic appeal.
The long-lasting nature of wood flooring is equally ideal for multi-family residences. Not to mention, these projects show how easy it is to boost interior design so customers, guests or residents aren't just looking up, but staring down in awe.

Aldergrove Credit Union In British Columbia
A Credit Union is a place to get all things business done. When guests come in, they should feel inspired and not burdened — despite money issues being the bane of most of our existence.
When one enters the Aldergrove Credit Union in Langley, British Columbia, the organic Ash Natural wood flooring gives off lightness and calming vibes. Whether customers are building up their savings or making withdrawals, they won't feel as weighed down by money matters once they enter the building.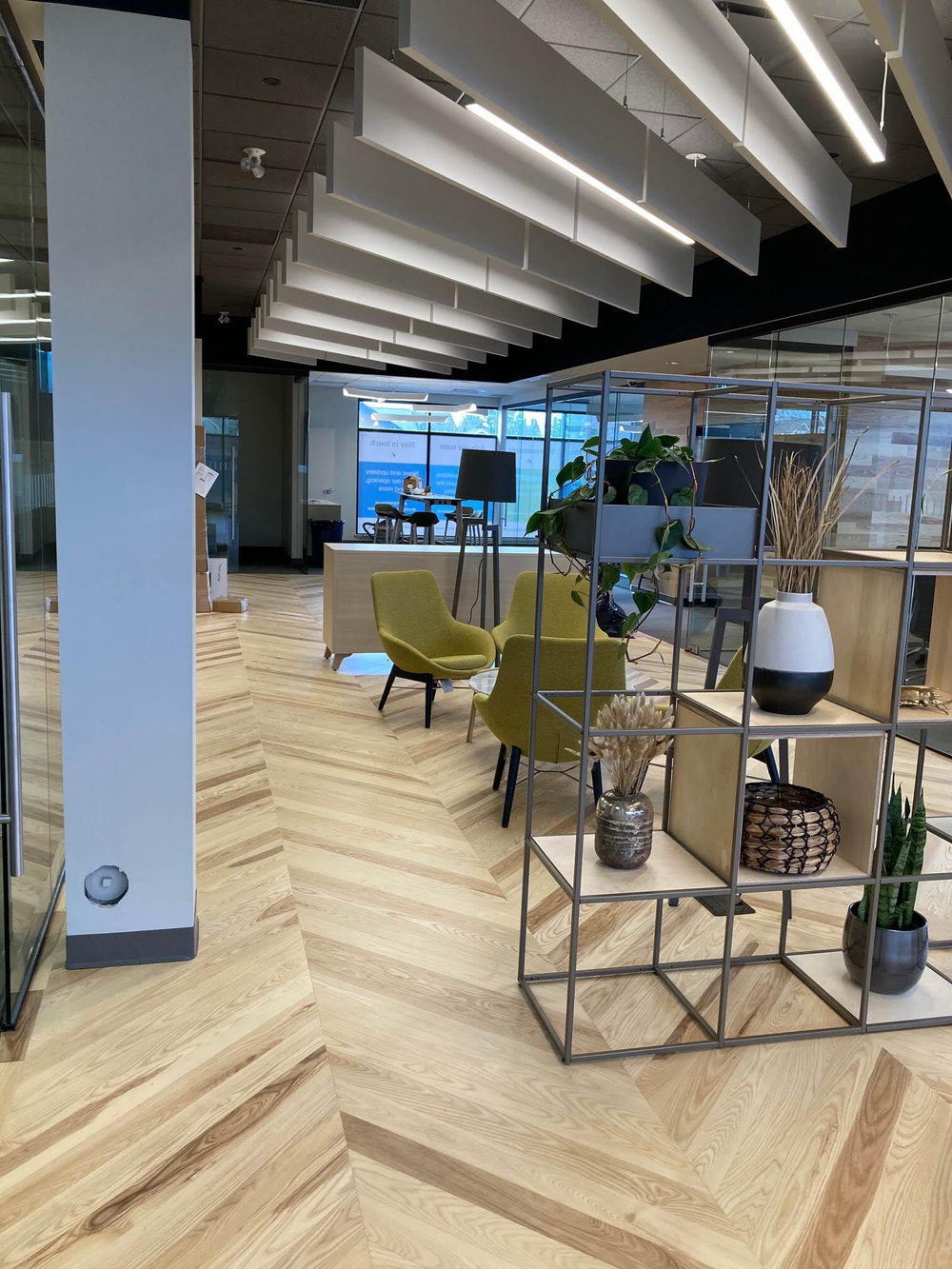 This unique wood flooring is the perfect way to epitomize an outdoor feel inside. And, the wise designers complemented the ambiance with lots of plant decor. At first glance, it doesn't even quite look like a place to conduct such serious business. But, with the right flooring, maybe business doesn't have to be so serious.
Of course, the right flooring is not just about aesthetics.
Hardwood flooring is as much about the quality as it is about the effects. Aldergrove decided to go with a product that will last until credit unions are no longer utilized. And with a 4.2% annual growth rate and membership steadily rising consistently over the years, that's not happening anytime soon.
Ash Natural could also easily fit into a living room project. The look and feel of it make it multi-purpose while still looking stunning. We argue natural flooring is the second-best thing after natural lighting. Whether it's business or personal, finance or family nights, Nydree is a solid option for all of your flooring needs.
Calgary Public Library In Calgary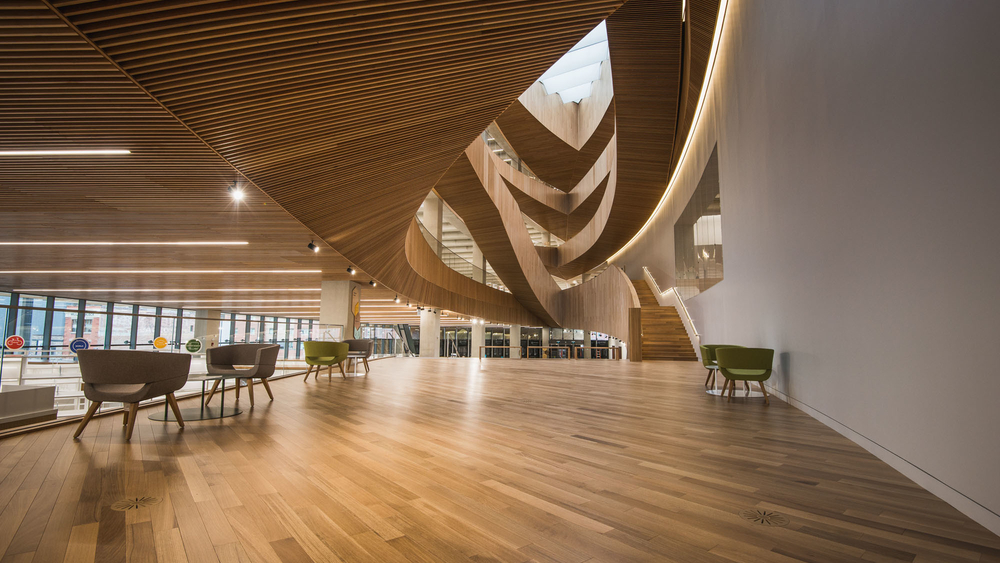 Rift and Quartered White Oak Natural covers the floors and walls of this ingenious design at the Calgary Public Library, another prime display of how to use flooring for more than one purpose.
In this majestic building, the Oak dresses both the floors and walls, creating an all-encompassing organic and professional setting.
After the Toronto Public Library, the Calgary Public Library is the most popular in Canada, so the type of flooring used here is pretty important for both functionality and aesthetics.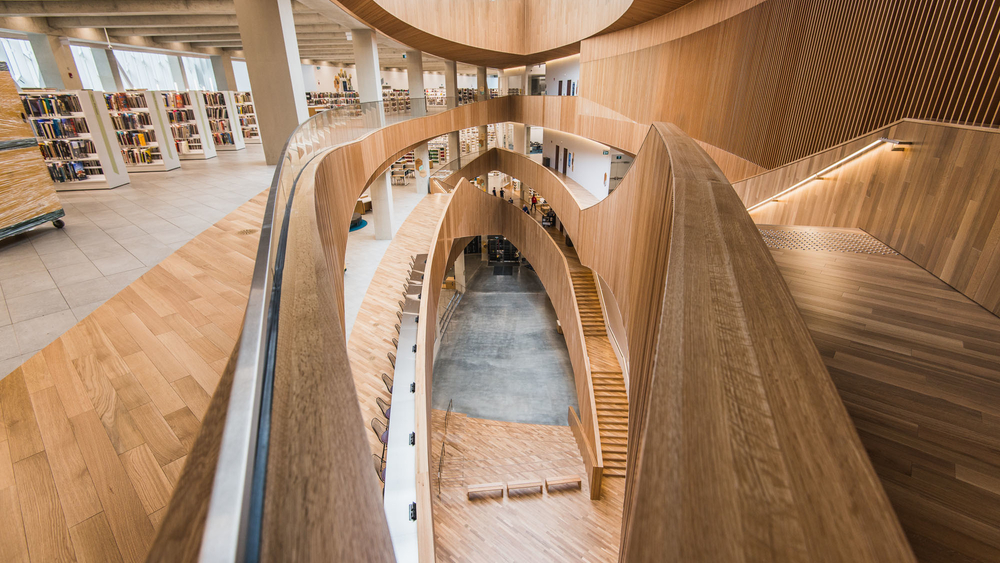 Like all of Nydree's products, our Oak flooring is 300% more durable than other flooring options, making it resistant to dents and stains while requiring minimal upkeep. Additionally, Oak adds immeasurable character to whatever space it's placed in. No matter the trend, personality is a must in any design.
And, we have even more projects which have been elevated with our advanced strength acrylic-infused flooring.
Four Seasons Opera Center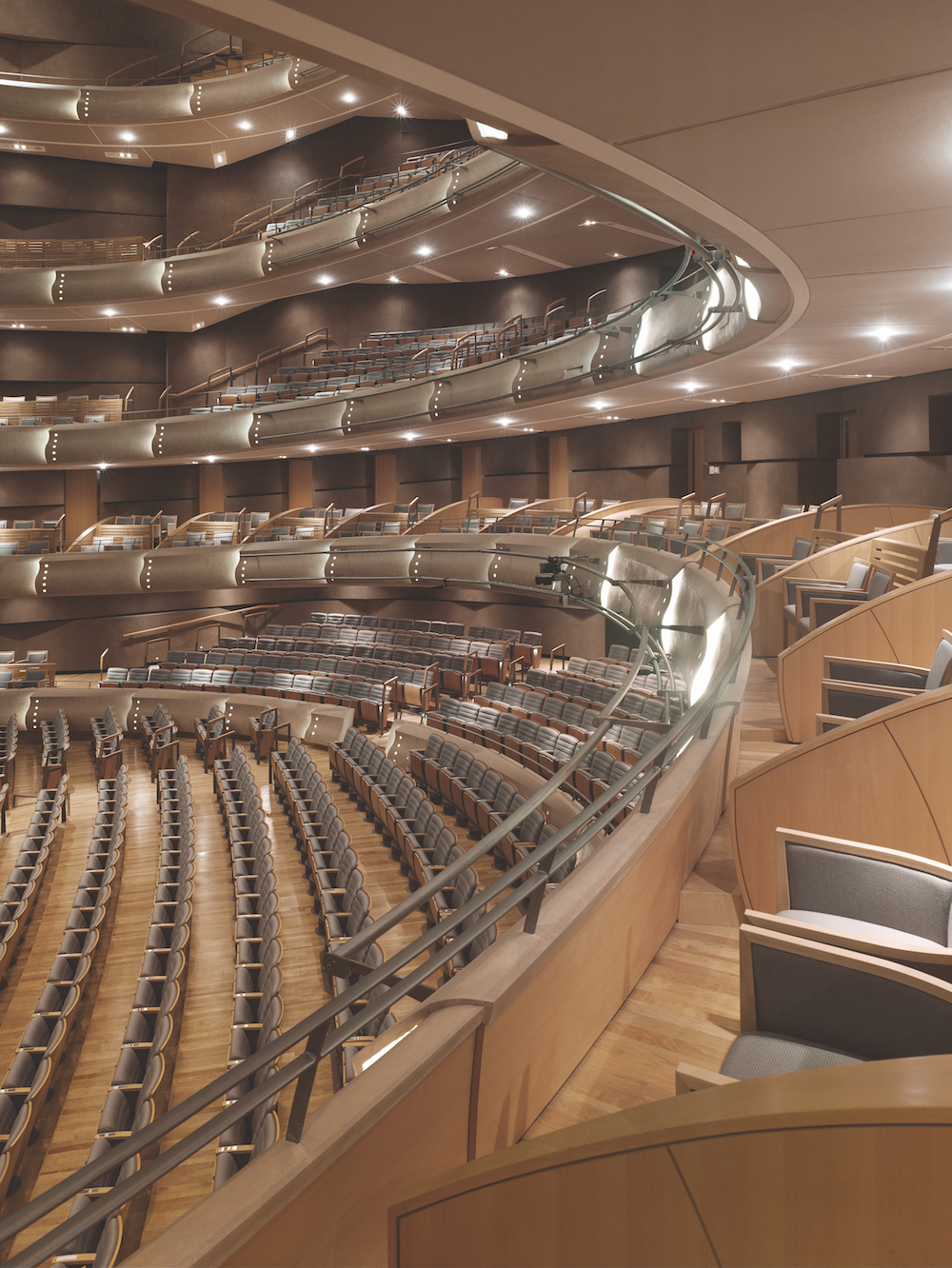 Looking for a place to go to get away from the hustle and bustle of everyday life? The Four Seasons Opera Center is sure to make people feel like they've entered another realm. Maple, a style often used to exude magic and illusion, is perfect for creating a mystical illusion for even the most traditional of spaces.
The Opera Center, which aims at "connecting artists and audiences," radiates warmth and togetherness while presenting uniqueness. With the help of our Maple flooring, there is also an air of wonder amidst its hundreds of seats.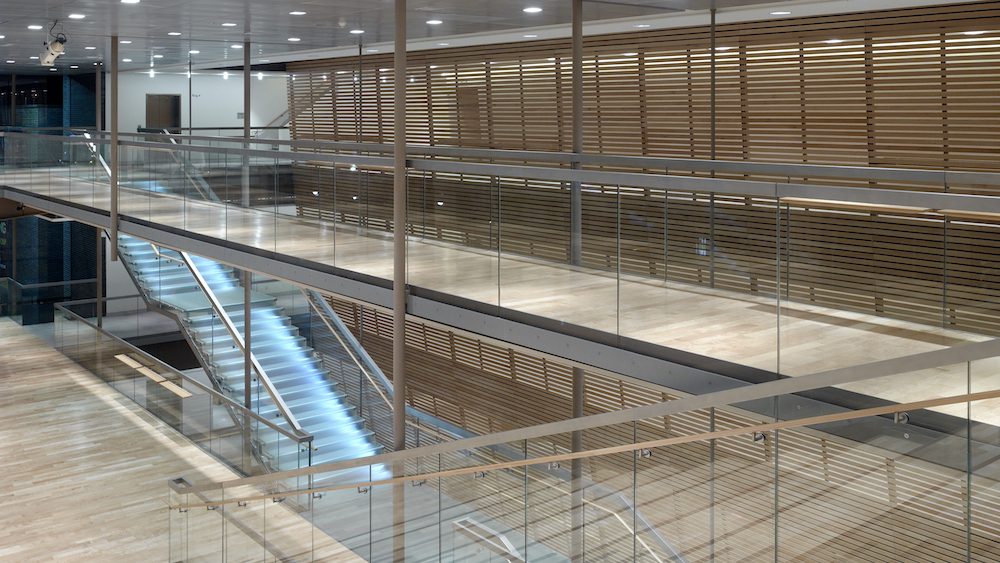 While artificial types of flooring are often considered more modern, natural elements are the ultimate display of luxury. They're always trending and, despite their high-end look, don't require much maintenance.
For places like the opera, luxury is usually preferred. However, Maple wood flooring fits in just as perfectly in residential spaces such as multi-family homes. It's equally suited to withstand the hundreds of shuffling feet at an opera and the jumping and running of crazy kids.
This life-proof flooring is easy to install while the results are long-lasting and beautiful.
Flooring Solutions for Every Space
It can be difficult to pick out just one style when flooring solutions are so extensive. That's why Nydree has trained representatives to provide expert recommendations and technical assistance for all our markets.
Already have a flooring idea in mind? Feel free to request a quote. Nydree's reasonable costs will help bring any design idea to life and our team of seasoned professionals will help every step of the way.
Not quite ready for a quote or consultation? No problem. Browse through the Nydree catalog and order a sample to find out what solution will work best for your next multi-family residential project.