As multifamily residences become more popular due to Baby Boomers downsizing and millennials moving into urban areas, the need for gorgeous multifamily residence designs is increasing. Thanks to a more stable economy in recent years, more and more people want their multifamily residences to be high-end, luxury environments.
It's important that designers, architects and building owners stay on top of trends in the multifamily industry in order to attract long-term residents.
We've compiled six multifamily residence ideas below that are sure to take a multifamily residence from average to wow!
1. The Minimalist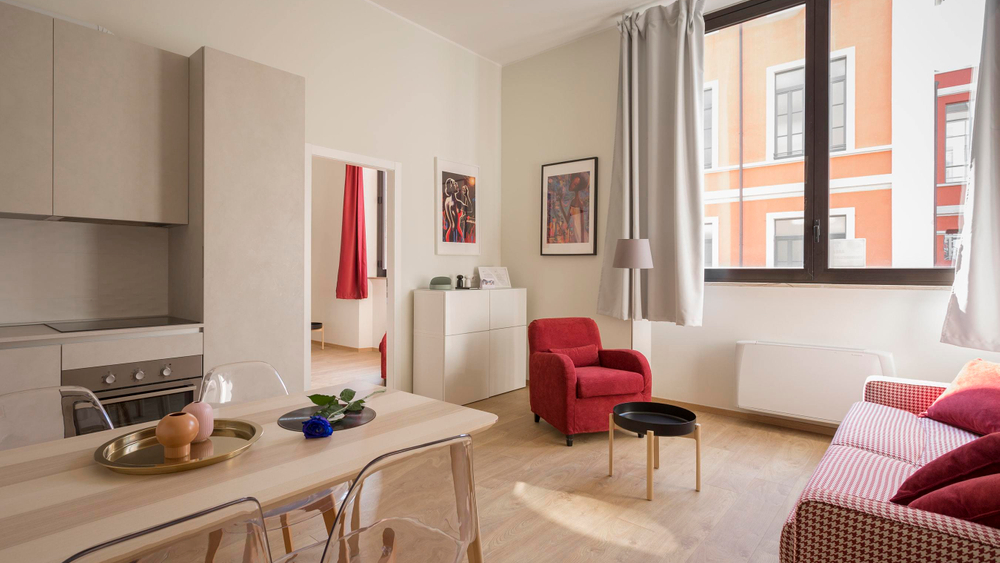 Minimalism is here to stay. Soft tones and simple designs can help create multifamily residences like condos and apartments a spacious and calming experience. As far as minimalist home flooring ideas go, wood flooring is always a popular and versatile choice.
For a cohesive design, match the color of the floor to the furniture like the kitchen and coffee tables.
Our clients and yours want more than just functionality; they want a variety of aesthetic choices. In minimalist designs, there's a lot of freedom of flooring design choice. With plenty of colors and wood types to choose from, there's a Nydree floor for every minimalist design.
2. Earth Tones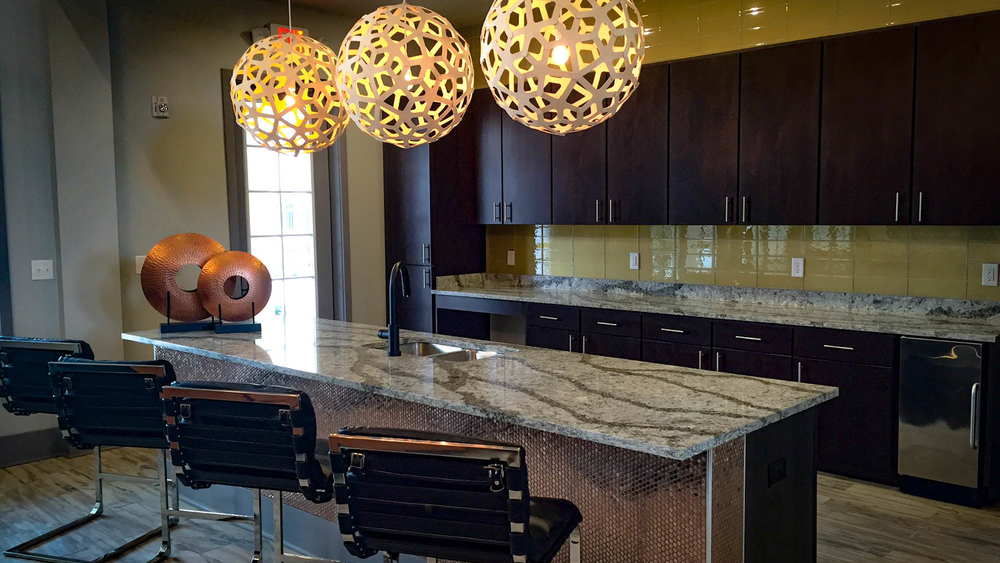 Bringing shades of outdoors inside helps any multifamily residence feel like home. With natural stone surfaces, rich earth tones and organic lighting, all that's needed to complete the look is beautiful wood flooring.
But this isn't just for private apartment kitchens.
In common areas like party rooms and multi-purpose kitchens, creating a warm and welcoming feel is the goal of many designers. Multifamily residence flooring needs to be high performance and durable everywhere, and common areas pose multiple challenges for designers.
Residents want a home-like feel so designers need flooring that does double duty. Nydree's Maverick Collection features Woodura™ award-winning surface technology. It installs quickly with no adhesive requirements so you save on labor and provides high-impact durability for high-traffic, such as the kind found in common areas and apartments.
Learn more about Nydree's Maverick Collection by clicking here.
3. Bold Lobby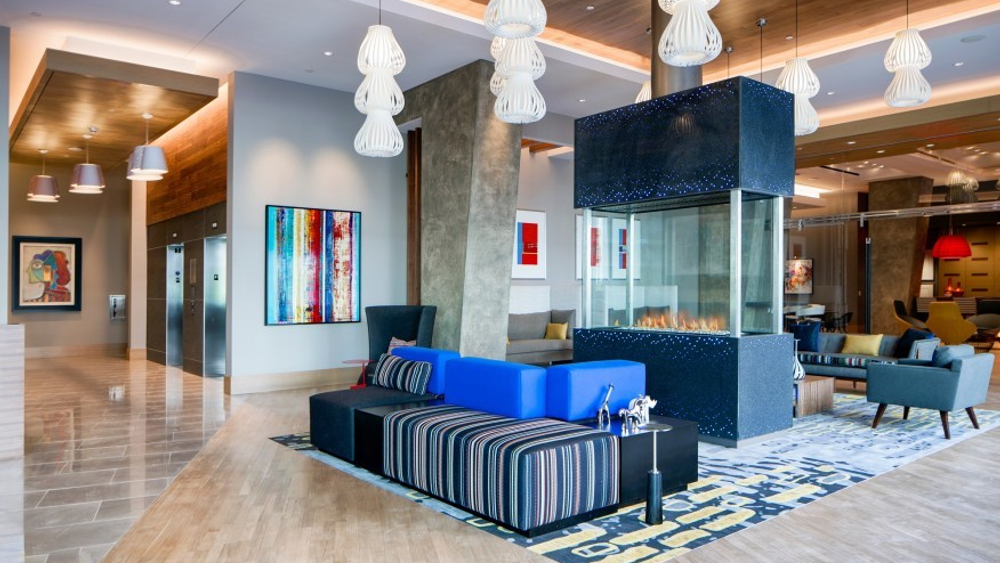 The first impression of any multifamily residence is always the lobby or common entrance area. This area needs to reflect the style of living and high-quality people can expect in the residential suites. Bold designs are always a sharp go-to that suit almost all multifamily residence styles.
However, first impression areas are always the highest traffic areas, often carrying in outdoor elements like rain, dirt and snow. This can pose significant challenges to designers and builders.
They need multifamily residence flooring that is durable, stylish and is easy to care for with simple and quick repairs. The last thing multifamily residence owners want to deal with is expensive flooring fixes. They want flooring that will stand up to the high traffic they entice with their bold design.
4. Staggered Edge Color-Blocking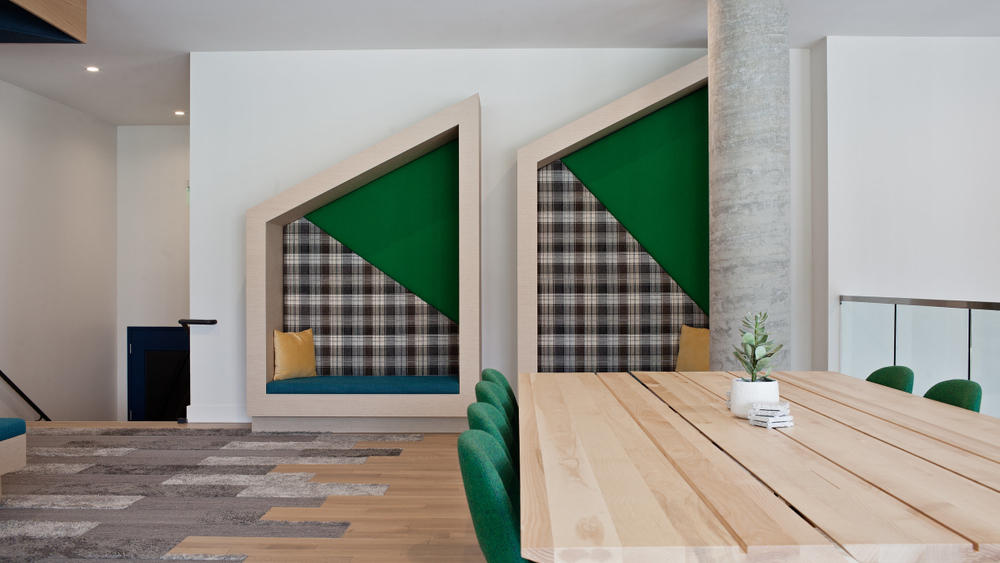 Creating interest in all areas of a multifamily residence is a great way to ramp up style. Staggered flooring in either private residences or common areas gives a sense of delineation in the space, making the room multi-functional for all residents, regardless of use.
Nydree flooring is easy to install, even in complex patterns, and high performance suitable for gyms, common kitchens, conference spaces and entertainment rooms. Its locking system makes it even easier to create a stylish look like this one. Add pops of color blocking and this is a space that will last decades.
5. Rich With a Splash of Bright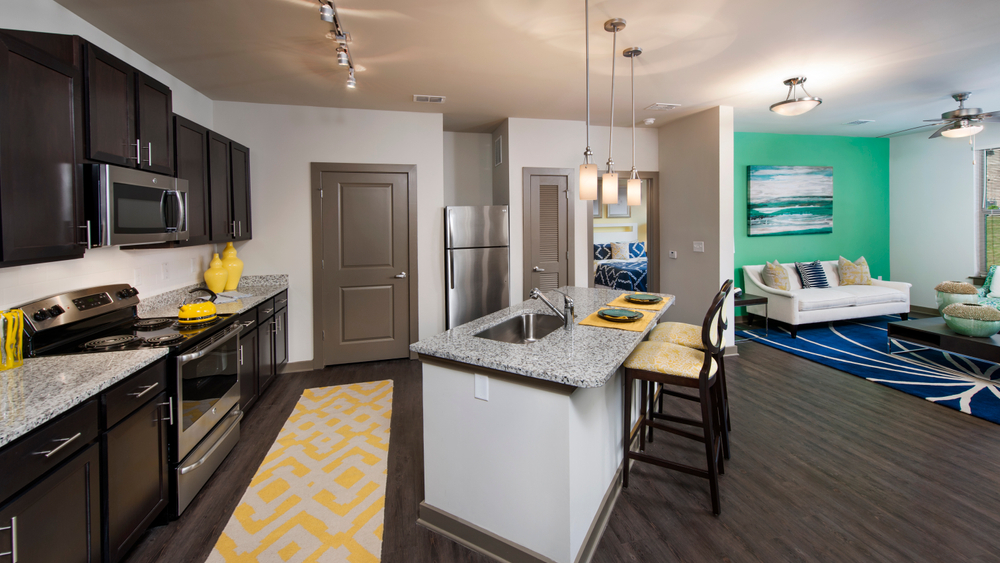 Rich classic wood flooring shades like this one are always a great choice and will last a long time. All that's needed for a refresh, years down the road or in between tenants, is a new pop of color. For new builds, yellow and grey are always a stylish look together and will make the room look fresh and modern.
The nice thing about Nydree flooring is its acoustical properties which muffle loud footsteps and keep a calm feeling no matter what tennants get up to. And just like solid wood, each Nydree Woodura® plank is unique. By mixing up the plank qualities and powder mixes, a natural wood look is achieved.
Interested in more interior design trends like this one? Click here for more inspiration.
6. Common Space or Private Space: Neutral Monochrome Is In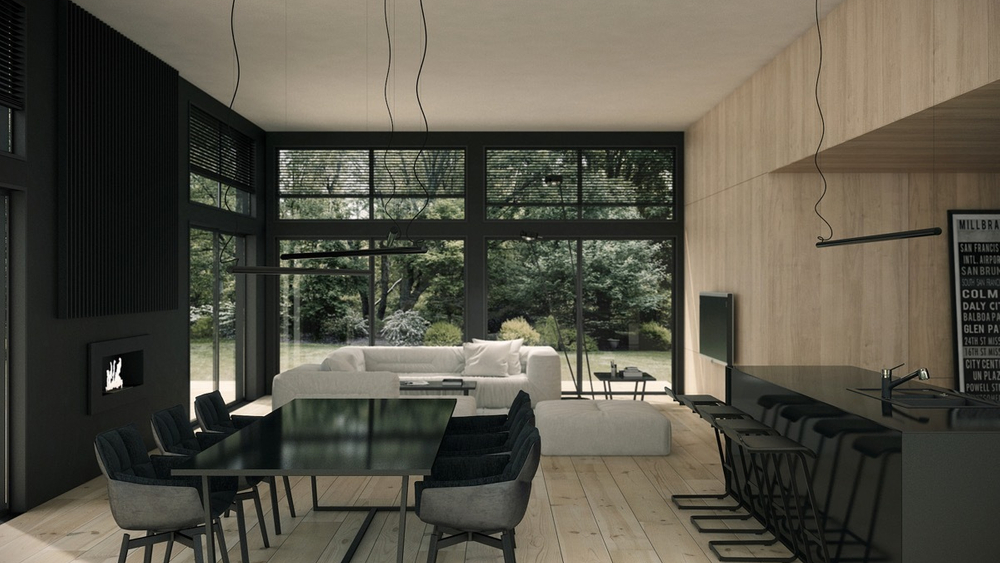 Neutral monochrome with natural elements, like big windows bringing the outside in, is on trend these days, and it doesn't seem to be fading anytime soon! Pairing this look with our Maverick Blue Ridge shade will give this space a sense of serenity and peace.
Whether it's a common area or a private suite, this look is sure to be popular. Woodura® wood flooring is surface treated, expanding design possibilities that truly reflect the design intent of any multifamily residential space.
Get Started Today
Choosing Nyree flooring for your multifamily residential flooring solutions is never a bad choice. Creating spaces that are stylish, functional and give your residents a feeling of home is what every design should provide. Whether that design is industrial, contemporary or vintage, you want your floors to blend seamlessly with each unique design — and that won't need to be replaced any time soon.
We keep innovation at the heart of every flooring product we deliver, always improving on our technology to provide the best quality to all our clients. With our world-class service and free sample ordering, choosing the right flooring for any design is never difficult.
Check out our Maverick flooring brochure and contact us today to request a quote.