Engineered hardwood is a well-known flooring staple in commercial and multi-family designs because of its classic look. But that's not the only use for engineered hardwood.

Engineered hardwood flooring can be used in unorthodox ways, such as on walls and ceilings to brighten up more utilitarian spaces. We've created this list of some uncommon uses of acrylic-infused engineered hardwood that are sure to tempt you to branch out in your next project.

1. Elegant Hallway Walls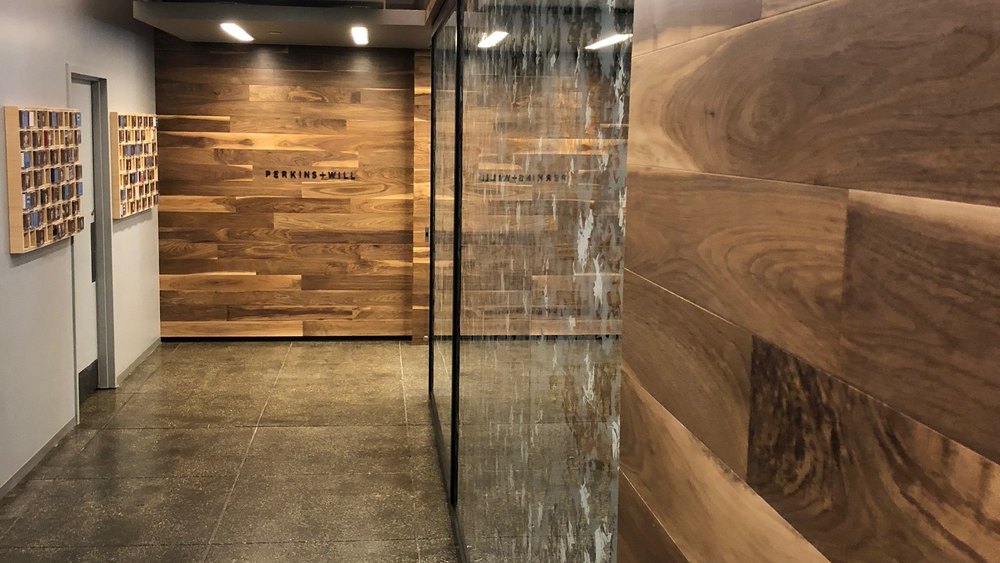 Engineered hardwood walls are a fresh step outside the traditional paint or wallpaper. Even concrete doesn't add the elegance that durable engineered hardwood does.
These wood walls can be combined with concrete, stone or mixed-up with other shades and textures of engineered hardwood. Reclaimed oak adds depth and texture to the wall paneling, while the horizontal installation adds length to the hallway and can create an artistic look that is simple and sophisticated.

2. Create a Cozy Seating Area
An essential feature of any office is a common area that is functional and beautiful, letting workers congregate and relax. Delineating semi-private spaces where workers can gather for personal or professional use is a great way to make the design stand out.
Using acrylic-infused engineered hardwood as the decorative factor in these sitting areas creates the illusion of being both connected but private. This uncommon use also adds artistic flare when the color and texture are chosen to complement the space in a way that is effortless.
A deeper grey tone mixed with bright furniture gives a cozy feel while the surrounding room brightens up the space. Mixing these elements will give the illusion of separation but won't break the flow.

3. Lobby Accent Wall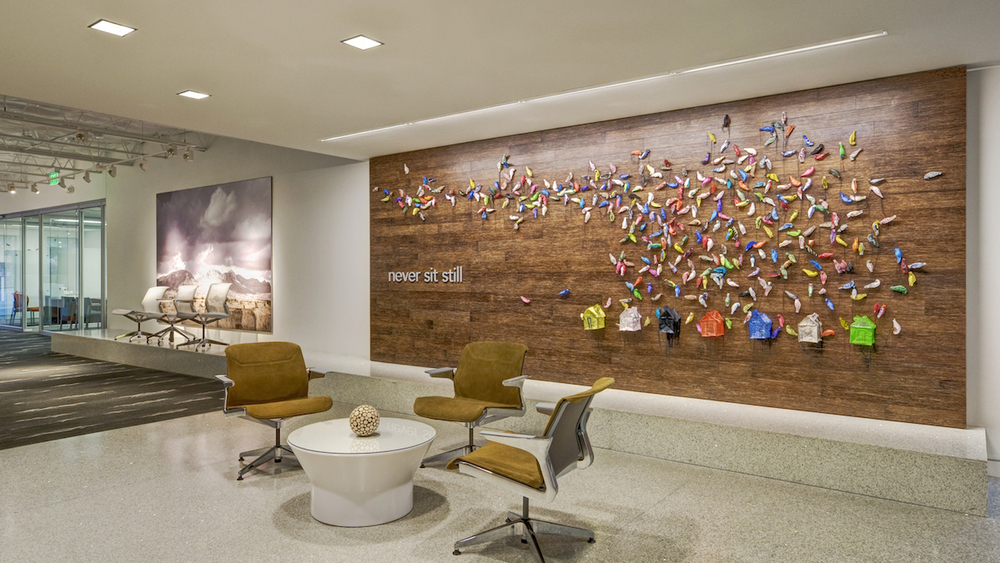 A great way to make use of engineered acrylic wood flooring is by creating an accent wall in a lobby. As the lobby is the first place of entry and therefore, the first impression, owners want to feel proud of the effort that has been taken to make it the most unique and elegant space possible.
By creating an accent wall with the warmth and texture of acrylic-infused hardwood, you can create an artistic wall with extra details like the ones shown in the above design.
Nydree's maple hardwood flooring, used in this example, is a versatile acrylic-infused hardwood, making it exceptionally strong, and it comes available in a wide variety of colors and textures, ready to fit into any artistic design element.
4. Soften Industrial Elements Like Elevators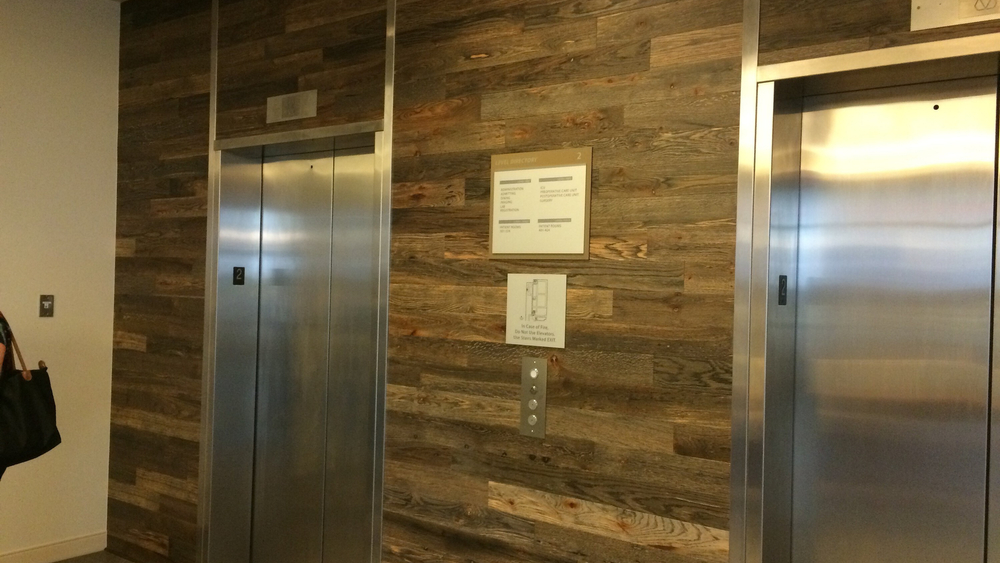 Industrial features that are necessary, like elevators, aren't always the most attractive. But this doesn't mean that they need to be hidden away as unsightly. Instead, you need a material that is durable and beautiful for these high-traffic, high-impact areas.
Framing elevators with acrylic-infused, engineered hardwood in warm tones and texture on the walls helps reduce the cold feel that naturally comes with utilitarian areas, creating a space full of warmth and character and that can stand up to the constant traffic and use.
This look can also be created in storage areas and at garbage disposal areas. Adding extra care to these spaces can take a space from average to exceptional.
5. Inlaid Design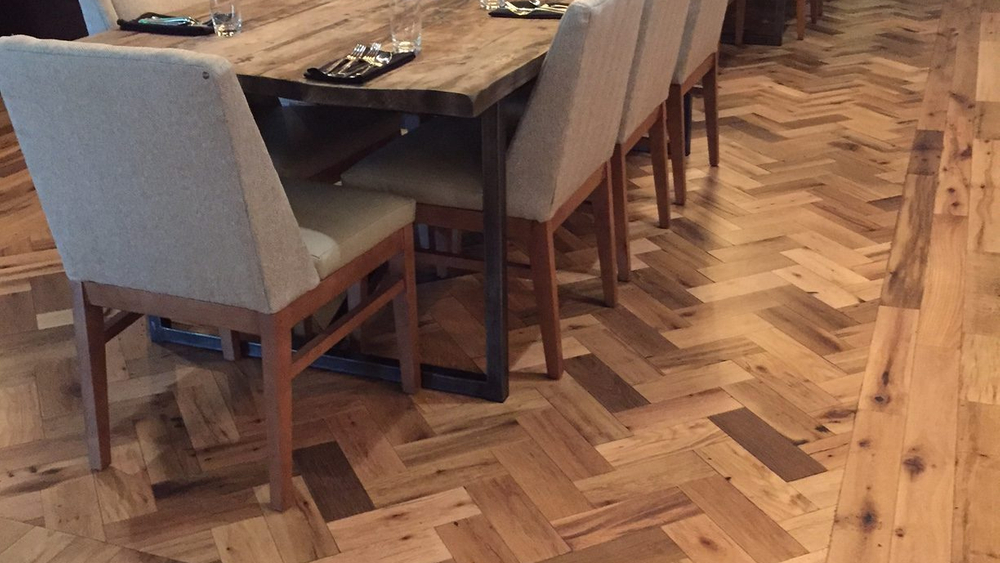 Taking hardwood flooring and creating an artistic parquet-like design is a bold step outside the box and one that we are in love with. This look can be created in any color and texture that best suits the design needs.
With acrylic-infused hardwood floors, the natural grain of the wood adds to the design and will delineate any space without making it feel smaller, as walls or railings would.
Add this to individual units to really ramp up the wow factor in a multi-family residence, or use the idea in communal kitchens or living spaces to add depth and length. Wherever it is, it's sure to be a talking point among residents!
6. Hide Unsightly Bulkheads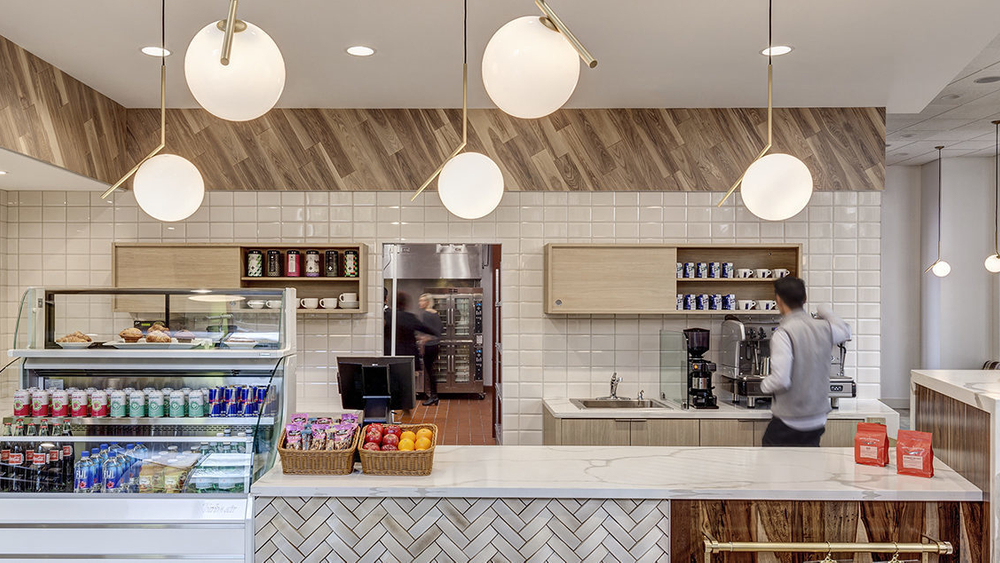 Just like utilitarian spaces, bulkheads can be ugly and inconvenient. But they don't have to be! Using accent engineered hardwood as a decorative accent feature takes an awkward space and makes it gorgeous.
However, using engineered hardwood flooring as wall covering also means a lot of visibility. Whereas some engineered wood has a synthetic texture that appears repetitive and can be noticeable, Nydree's acrylic-infused hardwood uses real hardwood, so it has natural textures that create an authentic, stunning design that's sure to draw eyes — without the pattern looking repetitive.
Or for extra impact, try this in a contrasting shade or color to frame a feature wall.
Get Started Today
There are so many uses for acrylic-infused, engineered hardwood besides traditional flooring. Ready to get started? Great! Reach out today to request a quote or receive a sample!