Designers know how much hardwood floors enhance the luxury of a commercial space. Hardwood flooring is often chosen over carpeting, because of its low-maintainability, durability, and timeless appeal. But who says you have to pick between the two?
Get the best of both worlds by designing with hardwood flooring and area rugs to give any space additional warmth and personality.
Soften the Noise in Your Space
Area rugs are a no brainer in an open space that echoes or has high ceilings.
In restaurants or hotels, providing quiet, intimate spaces for guests to meet is key, but this can be a challenge in busy, open lobbies or popular eateries. The solution is simple, though: area rugs add padding to your floor, which helps to absorb and minimize the noise.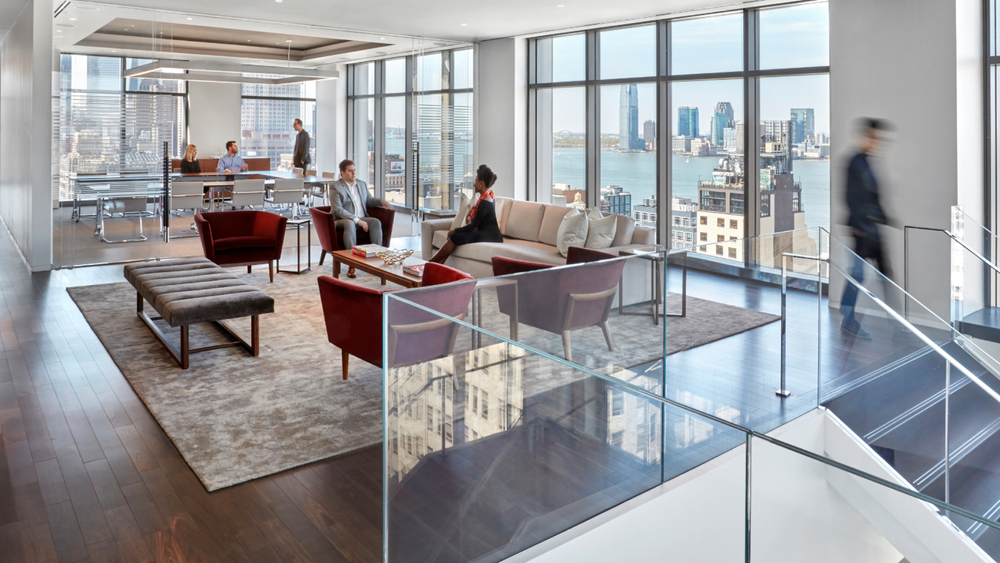 Softening the noise in an office space with area rugs adds warmth and character to a room and minimizing disruptive sounds may help to increase employee productivity. Another bonus: if employees are standing all day at a reception desk or walking often through the halls, area rugs are a great way to add a bit of comfort.
Give Your Room Flair and Personality
When choosing an area rug, be sure to look for one that can act as the foundation of the room's design. Area rugs come in all shapes, sizes, patterns, and colors—so find the one that fits your space and its function.
Don't limit yourself to a traditional rectangular rug, either. Instead, opt for an eye-catching circular or square rug to add further style to a high-traffic area. Designers can choose paint colors and furnishings that enhance the style of the rug, while keeping in mind the function of the rug.
Consider Your Space and Its Purpose
When it comes to selecting the kind of rug you'd like to feature, the traffic and overall purpose of your space should be taken into consideration.
Pile height refers to the density of the rug's fibers, varying from low to plush. Lower pile rugs (less than ¼") tend to last longer and are easier to care for. However, higher-pile rugs (½" to ¾") generally feel more luxurious. Note that the higher your rug's density or pile height, the more maintenance and cleaning will be needed.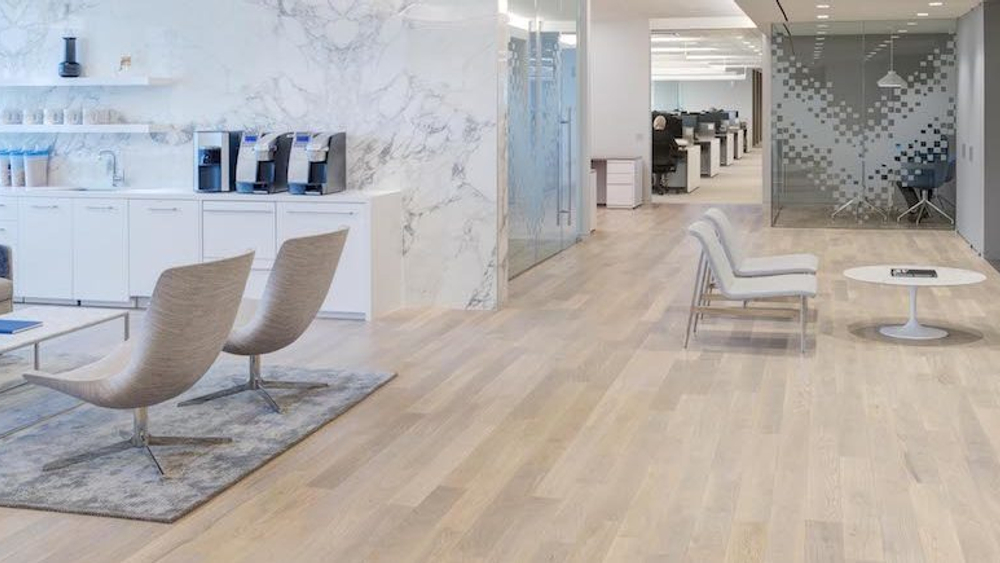 Using an area rug can transform the dynamic in a space. Whether in an office, restaurant, or hotel space, it is important to capitalize on the size and arrangement of the rug and furnishings. For example, a smaller rug can make nearby furniture look oversized and crowded in the space.
A general guide is to allow 10-20 inches of floor space to be exposed around your rug. Remember—you have beautiful hardwood floors to show off as well! It's best to use area rugs in high traffic areas, such as hallways, seating areas, and lobbies.
Preventing Slippage
In a commercial space, safety is a top priority and making sure your area rug is properly secured is the first step to keep visitors from tripping or falling.
Use a non-skid pad underneath the rug which will prevent a rug from slipping and adds additional comfort and sound-absorption to the room.
When choosing a non-skid rug pad, find one that is 2 inches smaller than each side of the area rug—this prevents the pad from peeking out from under your rug, and keeps the rug corners lying flat against your hardwood floor.
Area rugs are a great way to add more design and function to your space, without losing the style of hardwood flooring. With simple design guidelines and some consideration into what type of rug fits your design, you can transform any room into a space that visitors will remember.