Long gone are the days when a wood floor was put down in a single fashion. Boards are no longer required to be positioned in only one direction. Designs and faux looks are all the rage. Thanks to the insight of innovation natural hue of a wood floor can be changed dramatically with the use of contemporary colors and stains. All of these elements lead to the direction of custom designing wood flooring. If you are curious about creating a pattern with hardwood flooring here are six ideas to get you started.
Creating Faux Rugs
An interesting use of wood flooring is to take the boards and create the look of an area rug. This is done by using a variety of stains and colors to create a contrast in the wood flooring. Boards must also be laid with the final design in mind. For example, a faux rug design looks fabulous beneath the placement of a dining room table. This design is also well suited for bringing attention to an architectural feature. For instance, the use of a faux rug beneath a chandelier or at the base of a staircase really elevates the attention to these aspects without losing the attention to detail in the flooring.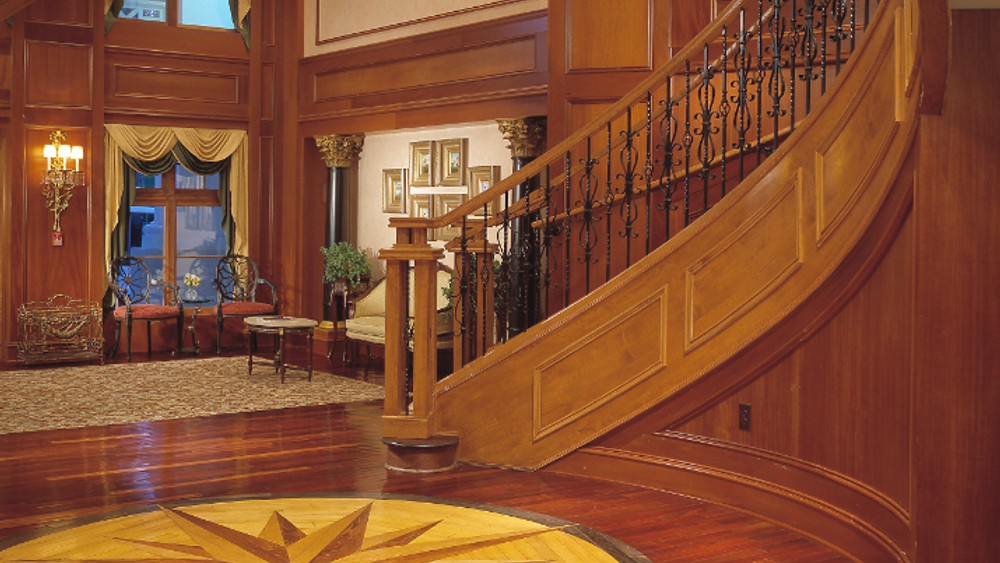 Breaking Apart Living Spaces
For open floor plans and studio spaces, such as commercial retail settings, well-placed wood flooring can help to break up the space. The use of various hues and patterns across an open space automatically helps the eye break apart the area. At the same time you benefit from having the ability to keep that open feel thanks to a lack of walls and corners.
Mixed Media
While hardwood is the star of this pattern it is elevated by the use of various other materials. Envision the placement of ceramic tile or stone work throughout a woodworking pattern. Tiles or stone squares can be custom-made to feature a brand, logo or business name for an added impression. Keep in mind you want to choose a secondary material that is cohesive with your hardwood. For example, if you are using an espresso stain on a Walnut hardwood floor you would want to select an embellishment that is lighter in hue. The key is to balance the use of materials so that it looks natural and authentic.
Painted Designs
On past the use of staining designers are utilizing painted designs as a layered look. For this feature wood is stained accordingly and installed as usual. Then a pattern, such has diamonds or a checker-board design, are painted over the top of the stained wood using a darker color palette. This creates a unique finish, as well as an illusion to the eye. Painting on hardwood takes an expert's hand, however, so to prevent the disaster of peeling or cracked paint. In order to adhere to the stained surface of hardwood flooring professional methods are required.
Herringbone is a Classic
One of the most traditional looks for wood flooring has to be herringbone. The intricate placement of wood boards creates a chevron look thanks to the weaving appearance. You can also find double herringbone patterning that features a bolder style from the use of two boards. Herringbone is a classic design that is ideal for use in conventional office spaces and traditional restaurant settings. It provides a look and feel that is timeless, making it the perfect pattern for long lasting wood flooring.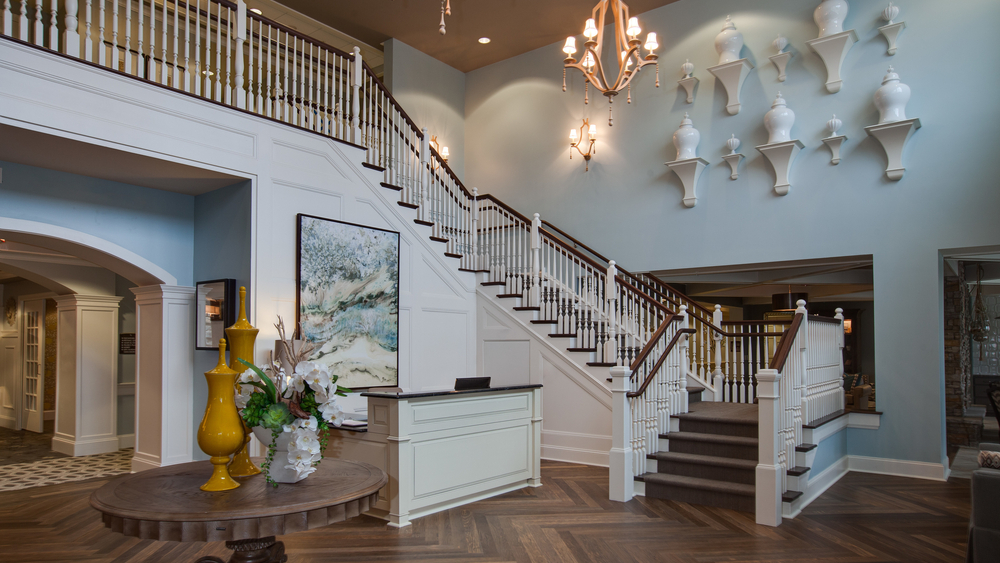 Cubes and Baskets
In line with the hottest flooring patterns of today we have cube and basket patterns. These two designs are created in a similar way to the herringbone design. However, with the basket patterning you have a more linear approach. The flooring is divided up by horizontal and vertical boards, each of the same length. This varies from standard random patterning. Cubes is another pattern that has been around for a while but is making a comeback.
By placing hardwood boards in equal shaped square designs, alternating between horizontal and vertical placement, you create an interesting effect. Keep in mind that the basket and cubes patterns require skill in woodworking in order to achieve a perfect finish. Additionally, not all wood species is well suited for these patterns due to the wood grain and plank style.
Getting Started
Before you make a decision on a particular flooring pattern, you want to do your research. After all, installing wood flooring is a sizable chunk of any designing or remodeling budget. Mistakes are expensive so it is best to begin the design selection process by asking yourself a few questions:
What is the overall design of your space? Will you be using loud fabrics, bold prints or patterned furniture for your decor? These aspects play into the choice of flooring as you don't want to have flooring that clashes or competes for your eyes' attention.
Do you want to stick to a specific aesthetic with hardwood flooring? For example, a country chic style would be best suited with Oak or Ash wood that is typically seen in this type of decor. A modern or contemporary space would be best served with a wood that can be altered using dark stain or whitewash to match floor color trends. A rustic or laid back atmosphere would be best served with a reclaimed wood featuring an old growth finish.
In addition to choosing a pattern for hardwood flooring, it's also key to note the species of hardwood you are interested in.
As you decide what type of flooring to choose for the pattern you are aiming for, it's a good idea to bring in the experts. Check out our professional flooring portfolio at Nydree Flooring in Forest, VA to learn more about the species, stains, and patterns that are best suited for various spaces. We also offer samples and quotes for wood flooring projects. Contact Nydree Flooring to learn more about how to create patterns with wood flooring.