The United States has come a long way from the dirt floors found in homes a few centuries ago. In this article, we explore the history of flooring in the United States, along with the most common types of flooring materials over the years. There are a few fascinating flooring trends that made their way into homes — and even government buildings — over the years.

Common Types of Flooring Over the Years
Flooring wasn't always a builder's first thought in the construction of a new building or home. For many years, dirt floors were the norm in early American homes — it was the easiest option. Flooring materials began to evolve, however, as more settlers brought new trends, along with new manufacturing processes that made material production easier.
Here are a few of the most common materials used throughout the history of flooring in the United States.
Tiles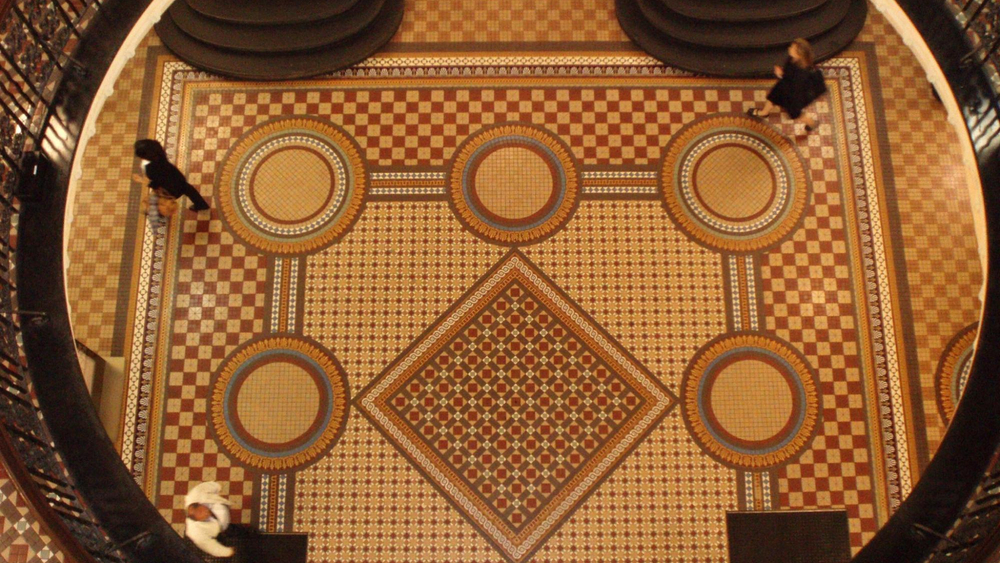 Tiles have been used for thousands of years in architecture, and this kind of flooring is found in some of the most impressive structures around the world.
Flooring tiles eventually found their way into homes and buildings in North America. They "became popular in North America during the late 1500s and flourished until about 1930," according to the Christian Science Monitor.
While flooring tiles are most commonly made of ceramic or stone, more recent manufacturing innovations have produced tiles made of rubber and glass. For most tile types, the tiles are set in an adhesive mixture and the spaces between them are filled with sand or grout. However, there are also plastic tile products that don't require an adhesive for installation, and instead, rely on an interlocking application.
Tile is still a popular style of flooring today — especially in bathrooms or kitchens — because of its moisture resistance and durability.
Carpets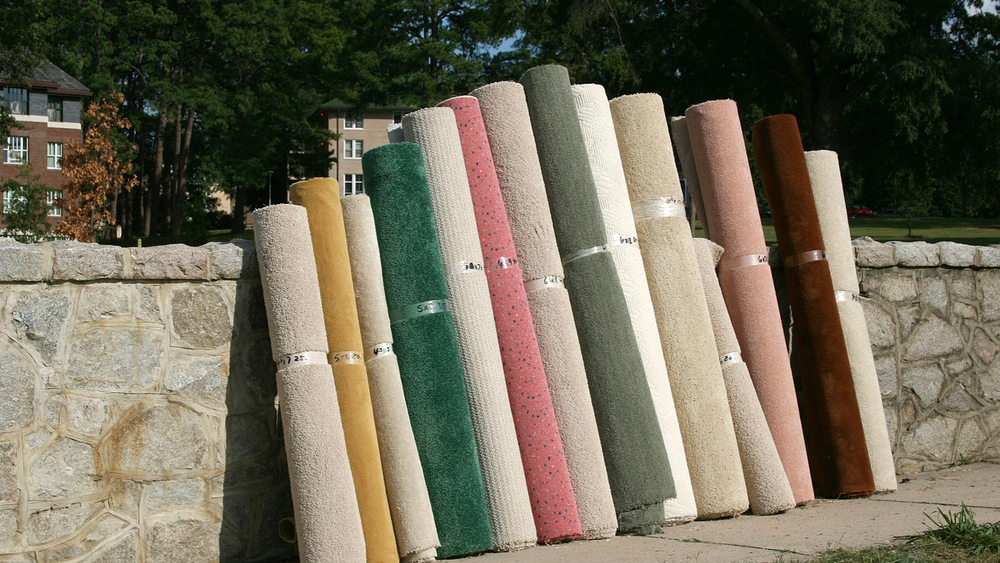 The carpet industry has played an important role in American history and politics. According to the House of Representatives' archives, carpets have been found in interior design in both public and private buildings for centuries, including the House of Representatives building. "During the late 18th to mid-19th centuries, the amount of carpeting that covered a floor signified the owner's wealth and prominence."
Carpeting was often used to cover up unsightly or poorly maintained flooring designs, which were often made from softwood. Carpets were made of woven materials, which were time-consuming to produce.
"The mid-nineteenth century saw the introduction of the varnished hardwood floor. With the hardwood floor came a declining demand for wall-to-wall carpets and an increasing demand for smaller rugs to provide stylistic accents," writes Randall Patton for Economic History.
An evolution in the carpeting industry helped to popularize the flooring, especially in the South, and "utilized locally developed technology and skills." Manufacturers began producing tufted carpets and rugs, and by the 1940s "a number of these firms had begun to experiment with multi-needle machines that could tuft wide swaths of backing material more quickly," says Patton. "By the end of the 1950s, the new tufted carpet industry had raced past the old woven industry."
The mass production of carpets made them more affordable and available to consumers: "Carpet finally became a staple of middle and working class home furnishings – indeed, it became the default floor covering over much of the nation for decades."
Vinyl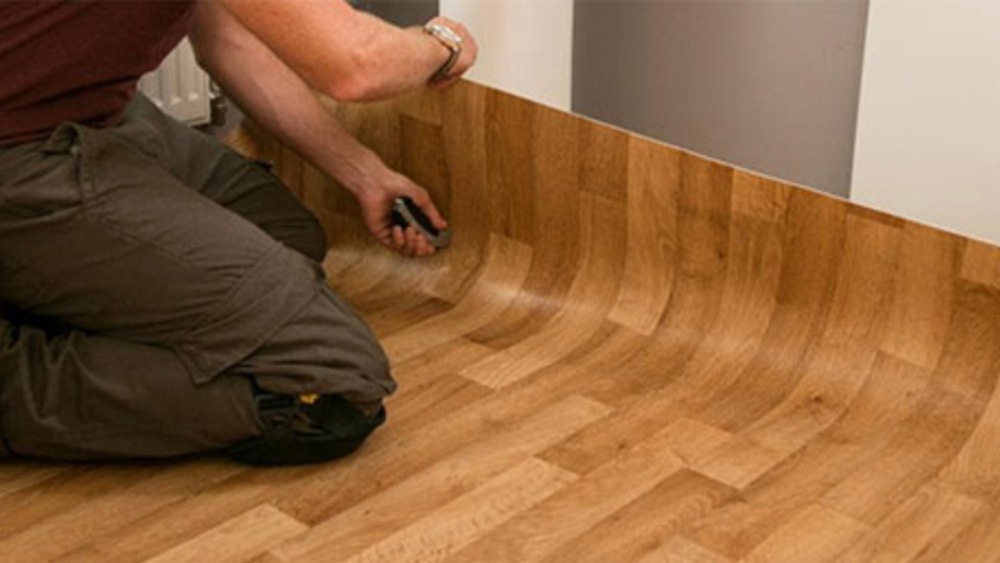 Vinyl flooring came about by chance, thanks to a few chemistry experiments using vinyl chloride. After multiple versions of the material were created, vinyl composite tile was debuted at an exhibition in Chicago in 1933 at the "A Century of Progress" exposition. It's now a frequent flooring choice for consumers who want to save on building materials and need a durable option — and those options are increasing.
Vinyl flooring has evolved over the years and now comes in a few different styles: sheets, tiles or planks. Vinyl is usually glued to the surface underneath using an adhesive. "Popularized in the mid 20th century, vinyl flooring is still evolving," writes Thomas Baker for This Old House. "And in response to health concerns, some flooring is now certified to meet strict standards for indoor air quality.
Laminate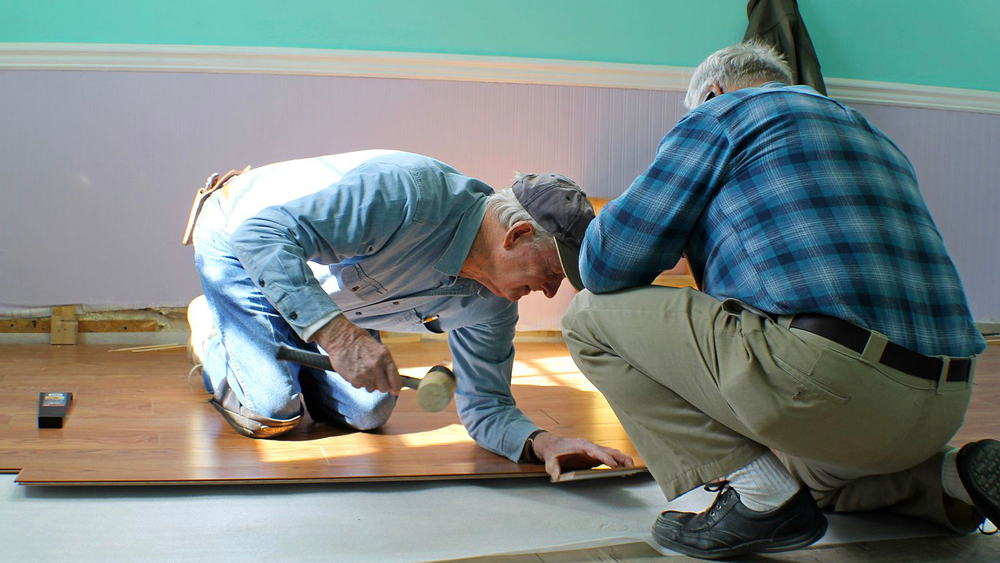 Laminate floors are newer to the flooring market and were introduced to the United States in the 1990s, although they had been popular across Europe throughout the 1980s.
"Early iterations of laminate flooring were often considered inferior to real wood due to poor printing quality and manufacturing processes. Glue-based installation methods sometimes resulted in buckled surfaces," explains Designing Buildings. However, laminate manufacturing has improved over the years, and a glueless "click" installation method came about in 1996 to make the process easier.
There is also plenty of variety when it comes to the material, because of consumer demand and flooring technology. Per Designing Buildings, "laminate flooring products are now available in a wide range of patterns, textures, widths, lengths and thicknesses."
Hardwood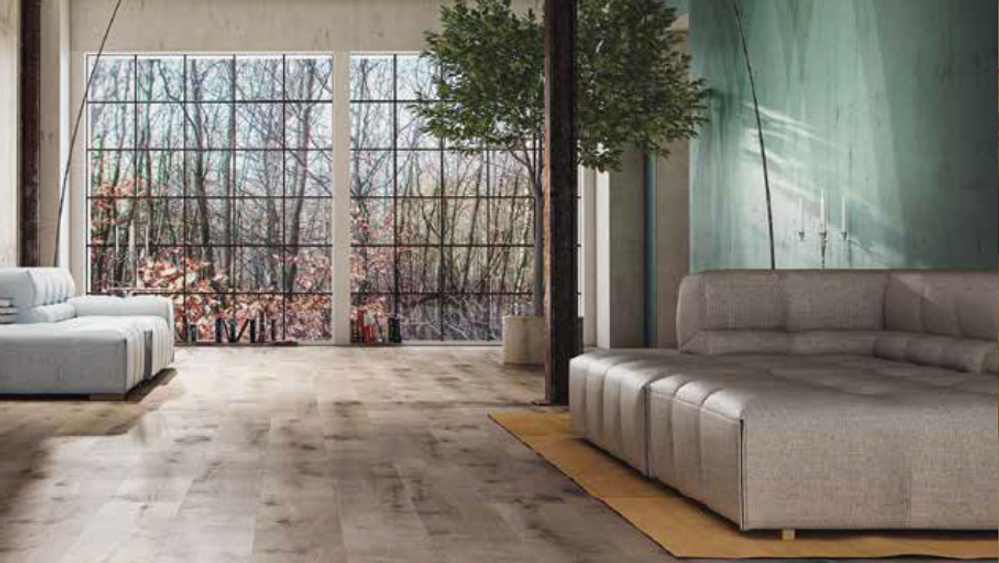 Wood flooring has been popular for several hundred years now.
Early American colonists cut trees from the abundant forests where they settled; those trees provided a highly durable floor for their homes, although the process was "arduous," and required at least two men to cut the lumber.
"Working together, they pushed and pulled at opposite ends of a long-bladed saw, carefully following chalk lines that indicated the direction of the cut," according to This Old House. This rough-sawn method of cutting produced wide planks that were laid alongside each other and nailed into floor joists. "The lumber was often left bare and was eventually burnished by years of use."
Different installation and application methods developed over the centuries, but it was all done by hand until the rise of the lumber manufacturing industry. During the Industrial Revolution (1760-1840) steam-powered methods were developed, making the job much easier. "Now, dimensional lumber could be milled in fixed lengths and widths, which expedited the installation of floors and gave them a far more finished appearance," explains This Old House.
Hardwood floors have come a long way since then. Today there are more durable and high-performing products, like acrylic-infused engineered hardwood, available for both residential and commercial spaces.
Flooring Trends Today and Beyond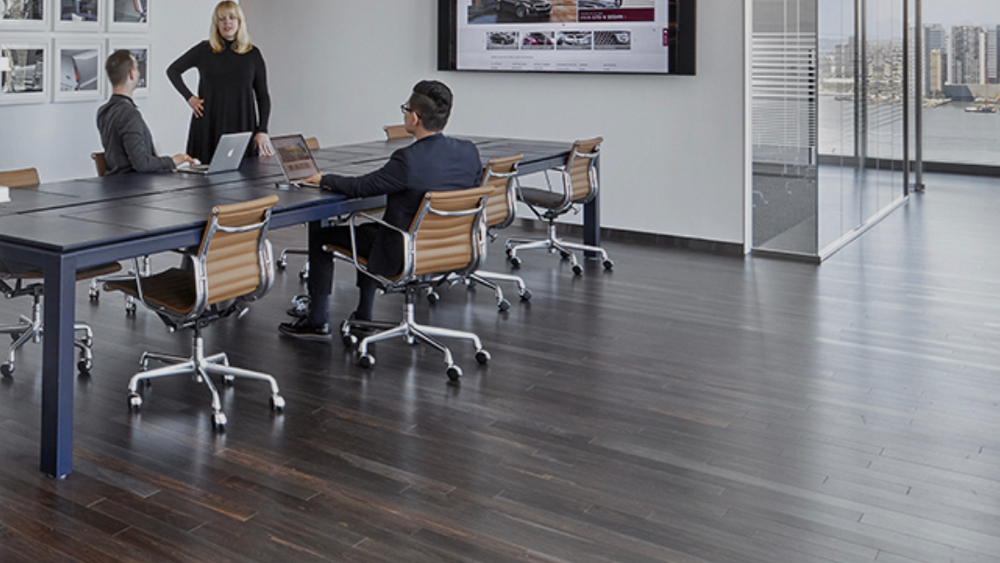 Home and building owners today want flooring designs that will not only last for decades but will also help to enhance the design of the spaces in which we live and work. However, there are a few flooring benefits that are non-negotiable with today's consumers.
Responsible Materials
Today's architects and builders make it a priority to use materials that aren't going to deplete natural resources. It helps to partner with manufacturers like Nydree, who are certified with the Forest Stewardship Council, to ensure that wood flooring products are responsibly sourced.
High-Performance + Durability
Even if a floor looks great, the materials used will have an impact on how long they'll maintain their appearance. Not all flooring products will stand up over time, especially in high-traffic spaces or busy homes.
Nydree's hardwood flooring is 300% stronger than traditional wood flooring and guaranteed to stand up to heel marks and scuffs that are typical in high-traffic spaces like kitchens and lobbies.
Design-Forward Styles
Home and building owners want flooring that has style. Hardwood floors are a popular choice because the natural material brings warmth and unique touch to a design. And hardwood floors are always on-trend — that's why so many other flooring materials mimic its look.
Indoor Health and Sustainability
"Sustainability remains the overarching theme with commercial flooring," according to Building Design and Construction (BDC).
In fact, building codes and product rating systems have been put in place to ensure architects and builders use more sustainable building practices and low-VOC materials. "FloorScore, a green rating system for floor coverings, was developed by RFCI and Scientific Certification Systems (SCS) to test and certify flooring products for compliance with indoor air quality emission requirements adopted in California," reports BDC.
Flooring for the Future
It's crucial that the spaces we build last and maintain their style over time — but they should also promote the health of the building occupants who spend time in those spaces. After all, a sustainable building is a comfortable, enjoyable building. And the flooring that goes into our homes and buildings can make a difference in both comfort and beauty.
Learn more about flooring trends today by taking a look at some of Nydree's latest products. If you're ready to start a project and want more information on pricing, you can request a quote here.