From whitewashes to coal colored wood flooring, the spectrum is all across the board. If you have the desire to commit to an off the wall custom color it can be done. While there are some color constraints depending on the species of wood you choose, most anything can be achieved these days. However, before you go crazy with color via wood flooring consider the effects certain hues will have in your commercial space.
Light is Bright
Let's start at the lighter end of the spectrum, which includes white, gray and unstained wood colors. White wash was popular a century ago, and here we are back into cahoots with this flooring hue. One benefit of having light-colored flooring is that it increases the security and safety of individuals in the space. Furthermore, going all white on flooring completely transports a small or cramped space into a much larger appearing area. A lighter colored floor will also be less likely to reveal stains or marks in comparison to a dark-colored wood floor. As flooring makes up the majority of the area the choice in coloring can make so much difference.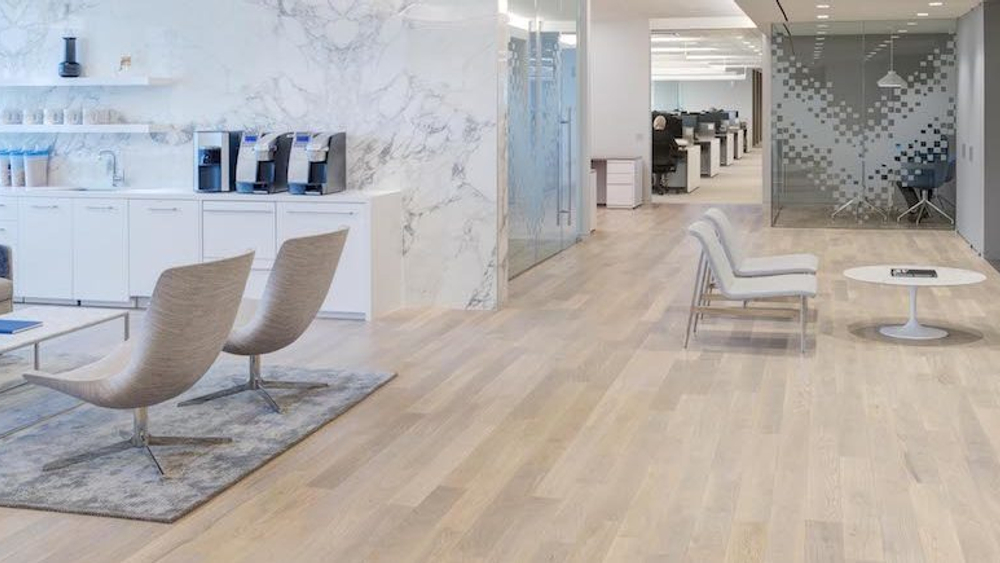 Gray is an interesting color trend for wood flooring. It features a more rustic look similar to reclaimed wood that is left unstained. The gray theme is well suited for contemporary commercial spaces. While it adds to the brightness of a room, it also evokes a quality of natural wood. This is prized by eco-conscious businesses that want to create the image of going green, albeit with gray hues.
Dealing with Darkness
In complete opposition, we have dark wood flooring that features colors like ebony, espresso, and wenge. These darker flooring choices are a new trend in commercial flooring. While traditionally left to the wayside due to the ability for dark flooring to remove light from a space, things are changing. For starters having a super dark wood floor is viewed as more luxurious and modern. Fashionable flooring featuring dark hues is seen everywhere from high-end restaurants and bars to European-inspired hotels and event venues.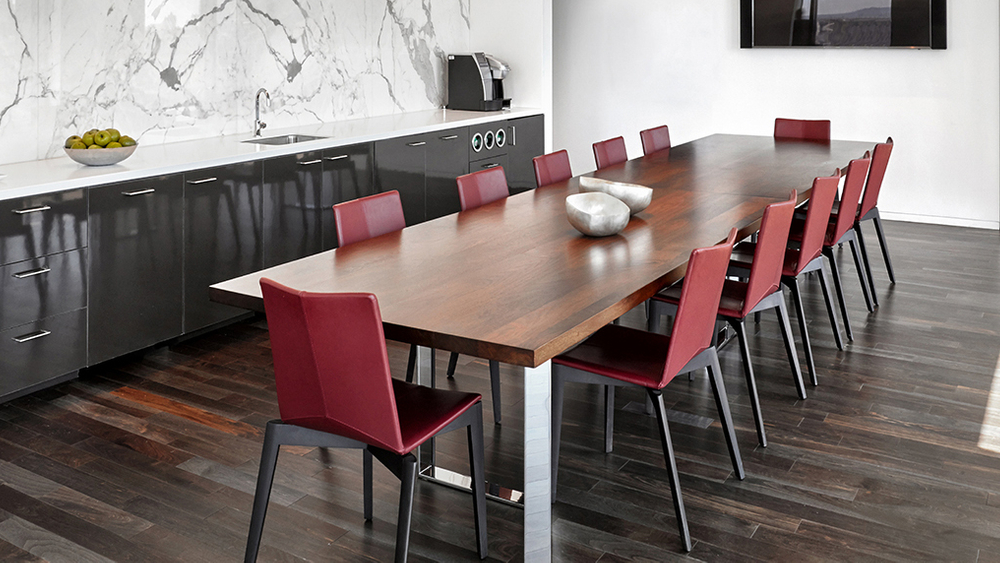 Even as a darker colored wood flooring automatically dims a space, it is the perfect choice for spaces that want to evoke intimacy or exclusivity. Dark wood also creates a warmth to a room that is unmatched by white or light-colored wood flooring. A darker hued floor makes a room look taller or longer, as the flooring appears to simply drop away from the eye. Keep in mind when choosing a dark color for commercial wood flooring that this hue also requires more regular cleaning since it can more easily reveal dust and dirt.
Going Gaga with Color
What if you can't decide between a dark or light flooring option? What do you do if you want a little bit of both? This is one solution for high traffic areas that want to delineate the various uses of the space. For example, if you use a mix of colors and patterns you are able to create a flow of foot traffic. Clientele, customers or shoppers might not even realize what the flooring looks like on a conscious level.
However, the way the patterning and color design is brought into the scheme can redirect the way that individuals interact in a space. For areas where you want individuals to slow down and relax choose a color and pattern combo that elicits calm feelings. In spaces, such as entryways or register counters, where you want traffic to flow continuously go with an array of colors. You could say that the busier the flooring, the busier the individuals walking on it.
A Grain of Color
In choosing among the many custom colors of wood flooring you want to look past the surface. A wood's grain offers the most personality and natural beauty of this material. As such focus on bringing the grain to attention using staining. One way to do this is to mix stain colors in order to both match and highlight the wood grain. This adds depth and interest to what might otherwise be flat-appearing wood flooring.
Before You Color Wood Flooring
Choosing a custom color for hardwood flooring opens up a whole new world for design possibilities. In addition to staining wood flooring to accentuate its natural hues, you can also use colored paint to go over the top in a layered design. For example, let's say you start with a White Oak wood flooring that has been sourced from reclaimed lumber. The surface is left unstained and open to possibilities. Rather than coating the entire floor in a bright turquoise opt for an overlaying pattern. Create a faux diamond or striped design that appears to be floating thanks to the contrast between the reclaimed, unstained White Oak and the turquoise design.
Before you make any decisions regarding custom colors for wood floors, you need to do a strain test. Every strain of wood has its own staining and color absorbing properties. For example a softwood like Pine is going to soak up color a lot easier and more efficiently compared to a hardwood like Maple. Also, consider the starting hue of the wood. Some wood species are naturally darker, or lighter, than others. This will play in the tint of the color you select for wood flooring.
By testing a sample of the strain of wood with the custom color you've chosen, you can get a good idea of what the final product will look like. Best of all you are saving a ton of money in the instance that the custom color is a flop for that particular species of wood. You also want to treat the colored sample with a finish or seal, if applicable, as this extra coat of material can alter the finished product.
Making the Smart Color Choice
When it comes to changing the color of hardwood flooring it pays to do your research. Speak with wood flooring experts, such as Nydree Flooring of Forest, VA, to determine what color possibilities are available to you. Also consider the cost of your flooring budget. By going with a custom color for wood flooring you are looking at an increased expense. Weigh the pros and cons before opting for this extra cost.
If you would like to see samples of custom colored wood flooring, as well as examples of colored flooring in action, contact Nydree Flooring. As your commercial flooring experts we know what it takes to make custom colored flooring work. Let us help you make the best choice in hardwood flooring.