Maintenance is your greatest ally in keeping your wood flooring up to par in a retail environment. As with most aspects of a retail facility the way you maintain the space is equally important. For example, you would never use a wet mop to clean a hardwood floor unless you intended to jeopardize the surface integrity. In caring for a wood floor there are several do's and don't's. Use this helpful list of tips to take better care of wood flooring in retail.
Cleanliness Counts, the Correct Way
The first step toward preserving a hardwood floor in a retail space involves keeping it clean. As dirt and debris is left on a wood floor it gets moved back and forth with foot traffic. This can cause the slightest of scratches on a hardwood surface. Over time these scratches build up and reduce the beautiful finish on flooring. At the same time this is the easiest part of maintaining your retail flooring:
Sweep flooring daily, i.e. at the end of each shift or working day, or in the instance of high foot traffic sweep as needed.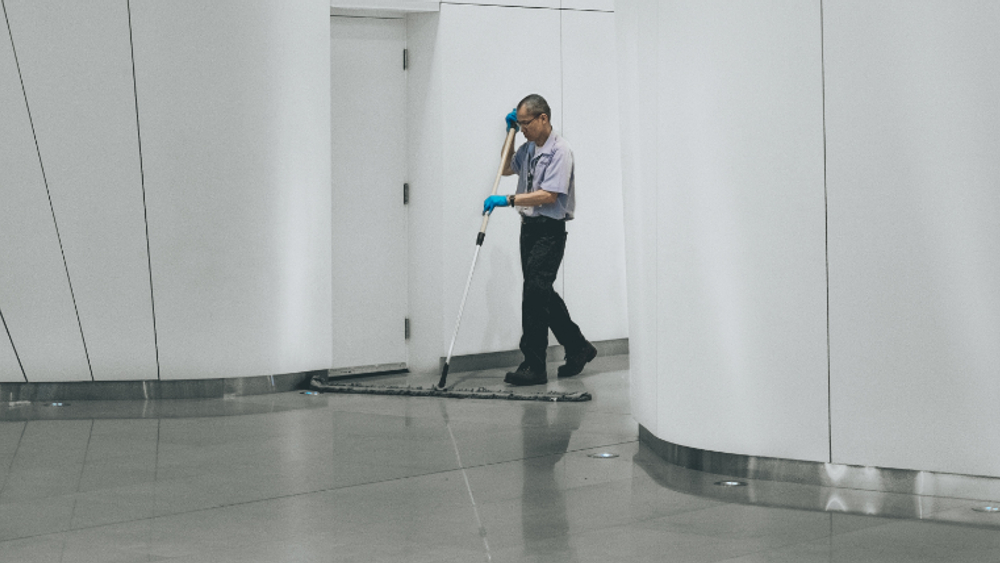 Bacteria and germs are the next offender of wood flooring. In a retail environment the last thing you want to be connected to is a disease outbreak. Fortunately it's easy to clean your wood flooring in order to remove these nasty germs. At the same rate most owners of hardwood flooring are not aware of the proper way to wet-clean this type of flooring. Here are some tips:
In a high traffic retail space clean the hardwood flooring at the end of each business day for best results. In retail environments with light traffic, i.e. office environments, you can extend the cleaning schedule to once a week at most.
Only use cleaning solutions that are made exclusively for wood flooring. Your best bet is to ask your flooring vendor about the type of cleaning solution they recommend. Often you can purchase this type of cleaner directly from the flooring supplier. This may be an inclusive aspect in any warranty you have covering the flooring, so you want to follow directions provided by the vendor.
Never ever use a wet mop to clean a hardwood floor. Any accumulation of moisture, particularly hot soapy water, will create problems with the floor's surface. If this water is left to soak into the wood it can damage the structural integrity of the boards and cause buckling and other issues.
Never use a steam mop to clean your hardwood flooring. This will cause undesirable damage to the sealing finish that is protecting the wood. It can also cause water to get into the boards, creating a disaster in terms of mold and mildew in untreated or aging wood.
You can use a vacuum designed for hardwoods, i.e. does not have roller brushes activated, to clean wood flooring once a week. This method removes any dirt or debris that has dropped into the grooves and gaps between boards.
Keeping wood flooring clean in a retail environment is a task that demands attention. While it can be easy to forgo daily sweeping or regular mopping, these simple actions can truly extend the life of retail wood flooring. Furthermore, you decrease the frequency of having to get the flooring refinished or replaced thanks to dedicated maintenance.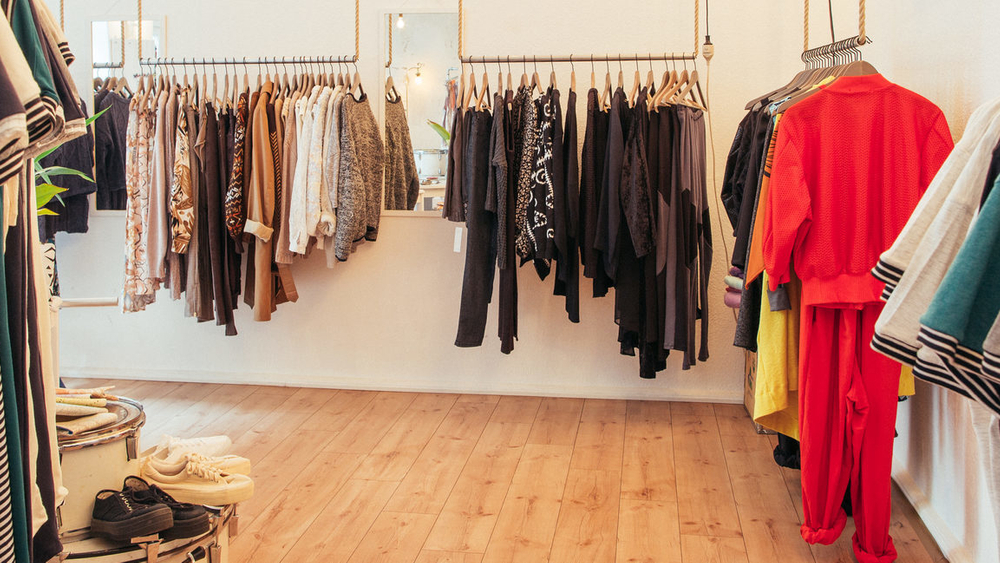 Get Protective of Retail Wood Flooring
In high foot traffic environments you need to do more than simply keep your wood flooring clean. A lot of traffic puts more of a pounding on flooring in a retail space. Therefore you have to be one step ahead of your customers and clientele. Here are some tips on how to do this successfully:
While the natural beauty of hardwood flooring simply cannot be surpassed, you will want to cover it up with rugs in high traffic areas. This would include entryways, cash register counters, dressing room hallways, and employee break rooms.
Use rugs in any areas of the retail space where liquids are accessed, such as a workplace kitchen or restroom sink counters.
When using rugs to protect flooring you must also maintain the rugs by keeping them clean. Consider using a commercial rug cleaning service to handle this task properly. A grimy rug has collected dust and debris, which as noted can cause scratching and scuffing of a floor's surface.
Look for skid resistant rugs so to prevent accidental slips and falls when used on hardwood flooring.
When spills happen on wood flooring clean them up immediately using a slightly damp cotton cloth for absorbing the liquid. Avoid using abrasive cleaners for spot cleaning spills, and never use a steel scrub pad on the flooring.
By following the correct cleaning methods for wood flooring this extends the life of the materials, even in high traffic retail environments. Also, make sure to inform any cleaning crews or employees involved in the care and cleaning of wood flooring of these important cleaning tips.
Repairs as Needed
Part of the maintenance process for wood flooring involves repairing the floor as needed. Repairs aren't a daily or weekly occurrence, and in light traffic spaces you might not have to deal with the following issues very often if at all:
The flooring is dull. Your solution is to wax the wood flooring. However, you may be able to buff the flooring instead, in order to achieve the premium luster and shine of its surface. At the same time if you do wax the flooring avoid over-waxing as this buildup of wax is also hindering the natural beauty of the wood boards. When in doubt speak with your hardwood flooring vendor to determine if the floors should be waxed or not.
Areas in your retail environment with lots of furniture or appliances are experiencing excessive scratching and scuffing on the flooring. How do you repair this? You may have to get the surface sanded down and resealed. However, you can prevent this issue by using felt protectors or pads on the base of any furniture including tables and chairs.
Customers and clients are wearing sports cleats, high heels, cowboy boots or other footwear that is hard on wood flooring. The impact of these styles of shoes is leaving dents and impressions in the hardwood floors. Repairs for this issue can be as extensive as the replacement of individual boards that are beyond repair. For future prevention consider the use of rugs and protective padding. Alternatively you can start with a super hard flooring, such as acrylic infused hardwood, as a way to prevent this issue from coming up.
The use of an acrylic permeated hardwood for flooring offers the greatest protection against heavy usage. For retail spaces that experience high traffic on a regular basis this type of hardwood flooring is ideal. In addition to offering a longer lasting flooring option, the use of acrylic infused hardwood reduces the amount of maintenance required for a retail floor.
By injecting hardwood boards with acrylic Nydree Flooring has developed an ultra-strength flooring material that is 300 percent harder than standard hardwood flooring. Ideal for high traffic spaces this flooring material is easily cleaned via methods that depend on the finish chosen for the flooring. Contact Nydree Flooring to discover the benefits of a low-maintenance high-traffic wood flooring option, the acrylic infused hardwood.