Hardwood flooring in 2017 is all about extremes. If you want to present an updated look, you should make a fundamental design choice about the focal point of your business space. Your flooring will be the focal point, or you will select a neutral style that allows you to make walls, cabinets, windows or even the ceiling the primary eye-catcher. Fortunately, the trends for 2017 are all built for longevity, so that your flooring choices for the year will allow you supreme flexibility to redesign your office in the years to come.
1. Darker Woods and Stains
Selecting a dark wood has a number of benefits for a commercial location. First, darker woods and stains that are not too close to black are less likely to show dirt and scratches, minimizing your maintenance needs. Second, the current trend for blonde or white cabinetry provides an excellent contrast with wood flooring in deep shades like walnut. Be wary of selecting the darkest stains and reflective finishes, such as ebony, which may make floor debris more noticeable.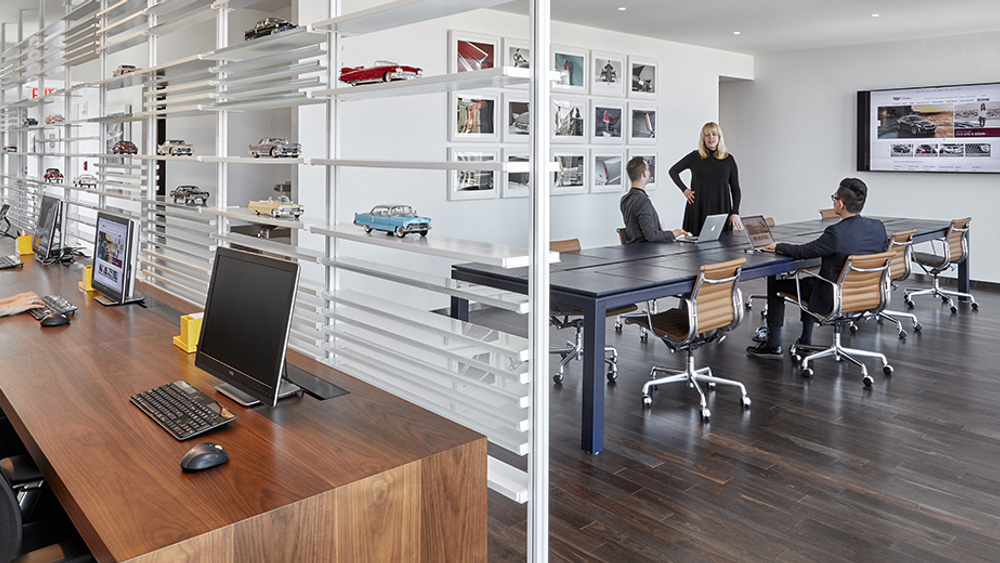 2. Lighter Woods and Stains
The other extreme for 2017 leads you to lighter woods and stains to match. Blonde or light woods like bamboo, maple and birch could be a wonderful addition to any room. Although lighter wood types may seem to be warm, the current trend pushes away from warm yellow and orange, toward cooler styles. The paler the wood and the stain, the cleaner the appearance. Use blonde woods to contrast dark walls and furniture, and to present a seamless view of the commercial space.
3. Neutral or Warm Gray
Gray is the color of the mid-2010s, and the fashion does not seem to be losing any steam. Coordinating with a trend in gray walls and cabinetry, gray flooring allows you to remain current without calling too much attention to itself. The unique push for 2017 takes you away from cooler styles, to warmer gray stains. A warmer gray that is not quite approaching beige will afford you the flexibility to add pieces to the room in warmer shades. Since the gray coloring comes primarily from the stain, you have the option to sand and re-stain as trends change.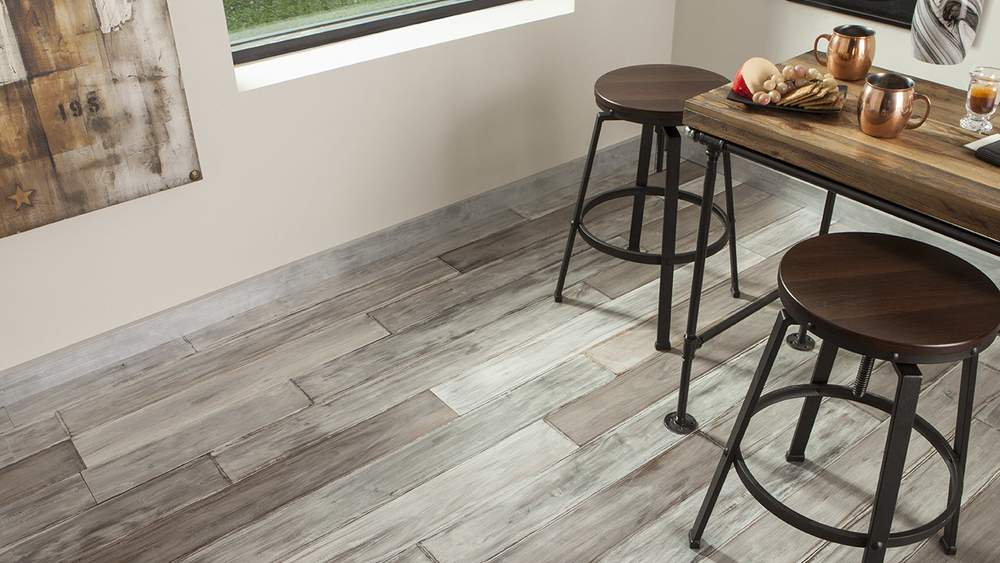 4. Extreme Grain Textures
With all the extremes in color selections, it should come as no surprise that the trend for wood textures also moves to opposite ends of the spectrum. Although the current preference for clean lines in lighter woods may also lead you to a smoother, flatter texture for the wood, you can buck the trend by selecting a texture that guides the eye to your flooring. For example, you might opt for a light wood with darker knots. An open grain can be made more obvious using wire brushing or hand scraping. However, you should bear in mind that a heavily-textured floor will require more work to clean, and may be more likely to show dust.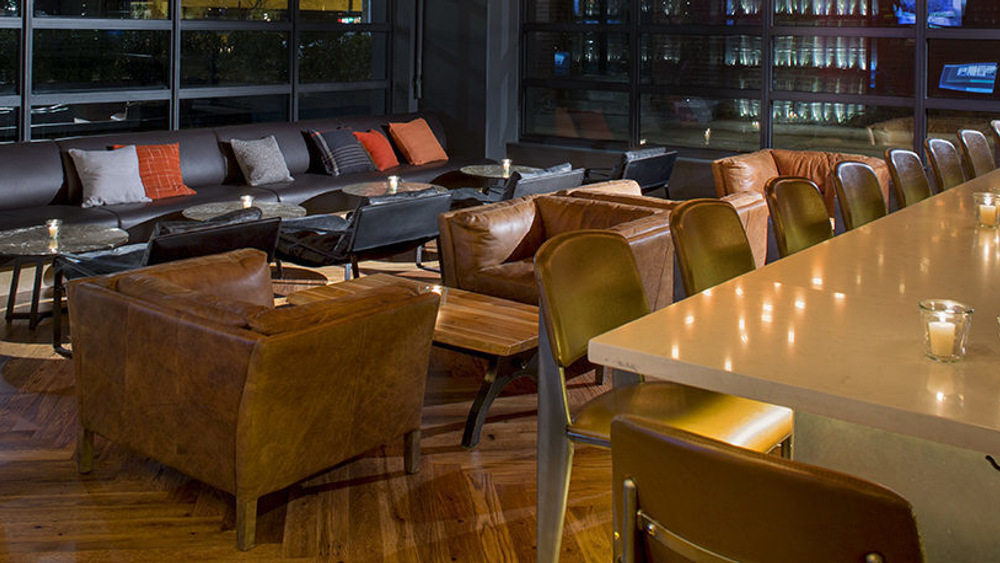 5. Matte Finishes
Fortunately, the trend in finishes help you to keep the space looking cleaner with less work. Finishes with a high gloss are on their way out, which is a practical move. The more reflective the finish, the easier it is to see dirt or blemishes. This trend is even more useful for commercial areas with bright white lighting. Finishes in satin or even matte provide a layer of protection to the flooring without drawing too much attention away from other parts of the building's interior.
6. Wide Planks
If your aim is to make the flooring look classic but a bit more unified, wide planks is an excellent option. New hardwood planks are often an inch wider than the traditional or old-school planks. With fewer joint lines, you can feature some of the more interesting aspects of the wood itself, especially the grain.
7. Designs and Patterns
The resurgence of geometric hardwood designs is on the opposite end from the preference of invisible lines. The classic parquet flooring is on its way back, with contrasting colors of hardwood placed in a square or herringbone style. You can point the herringbone in the direction that you would like a person's eye to follow. If these complex designs feel like they might be too much, you can also stand out from the pack simply by laying hardwood in the room diagonally.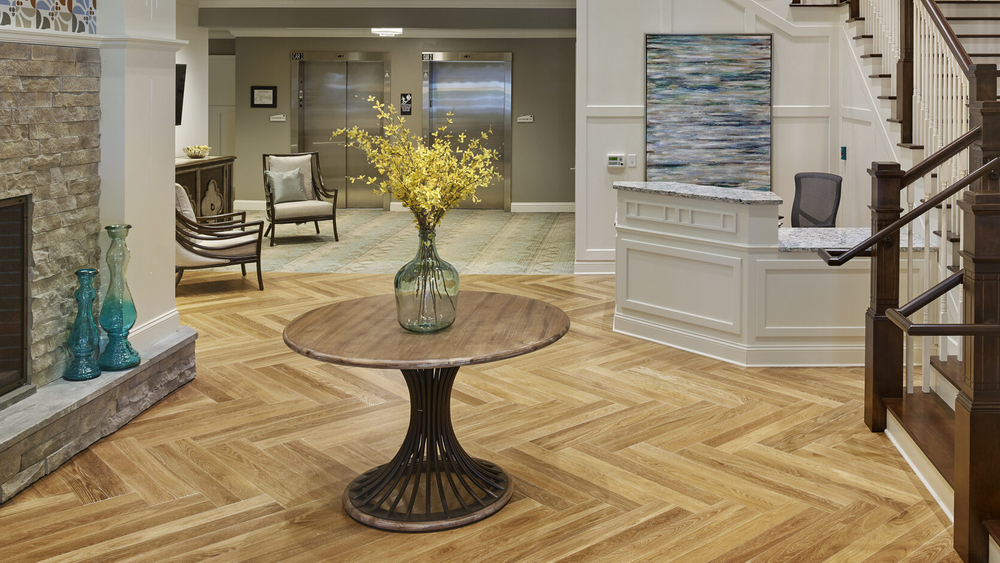 Choosing a hardwood color, stain and finish for a commercial enterprise requires careful consideration. You do not want the space to feel outdated, or too trendy. Above all, you want to avoid highlighting dirt or scratches. All of the hardwood flooring trends for 2017 are able to accommodate you, with colors and styles that will coordinate or contrast with your design plans and the ability to adapt with you. For the most current and durable commercial hardwood flooring options, contact Nydree today.
LEARN MORE ABOUT THE WORLD'S TOUGHEST HARDWOOD FLOORING
--
Did you like this article?