When it comes to selecting the right flooring for restaurants, there are a ton of diverse options that can accommodate the different areas of your restaurant. Wood flooring has taken a spotlight in residential homes due to its durability and beauty, as it has also caught the eye of commercial business owners who are looking to incorporate this flooring material into their restaurant themes.
There are many factors to take into consideration when you are searching for the right type of commercial wood flooring to have in your restaurant. Besides the aesthetic appearance and your budget, you must also think about the performance of the wood flooring that must withstand the daily wear and tear from restaurant patrons, wait staff and bar staff. Other key aspects to consider include how much maintenance must be placed into the flooring to keep its beauty and durability, the ease of installation, and safety concerns.
Let's talk about how you can choose the right wood floors for your restaurant. We will touch on some of the concerns you will face when running a restaurant, how wood flooring will react to those issues, and what steps you can take to prolong the functionality and beauty of your wood flooring.
Functionality and Performance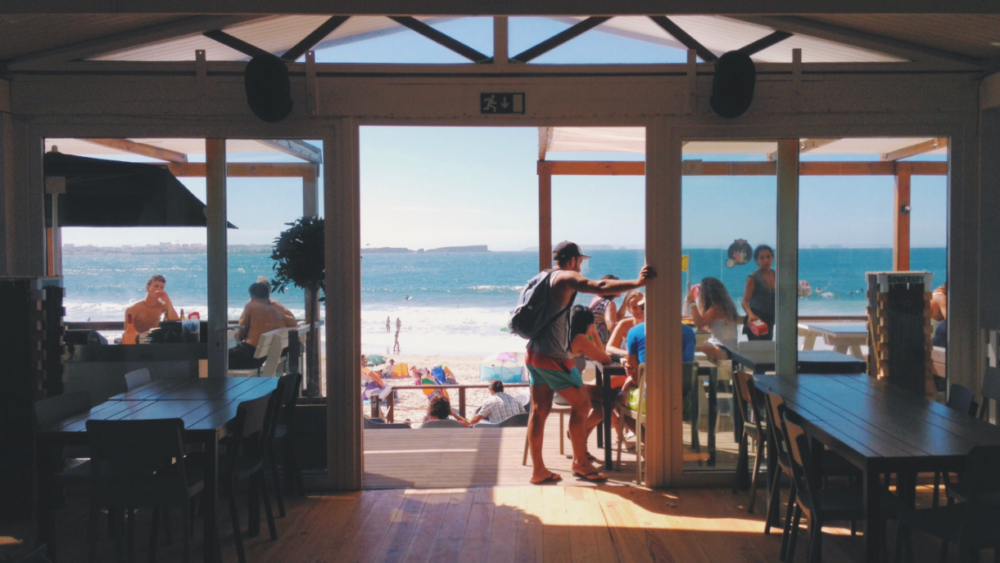 Wood is a strong and durable product. It can withstand a lot of wear-and-tear when properly maintained. The two main types available are commercial solid hardwood and commercial engineered wood. Each type of wood flooring product has its strengths and weaknesses, as knowing how they perform during certain circumstances can allow you to select the right one in specific areas of your restaurant.
Solid hardwood flooring can withstand large amounts of foot traffic in commercial settings. So the product is ideal in dining rooms and hallways. Yet it can be affected by humidity, moisture, and temperature fluctuations. It can also become stained from spilled food and drink. So it may not be ideal in places such as bathrooms, kitchens and bar areas. If you do decide on hardwood flooring in areas where there may be more temperature and humidity changes, then select dense wood species that offer more stability for your flooring.
Engineered wood is another viable option as it can handle scratches, dings and foot traffic. This product is also more stable than hardwood as it won't be significantly impacted to humidity and moisture changes. So you can confidently place it in areas such as bars and refreshment areas.
Additional wood flooring options include reclaimed wood. Due to the worn look of reclaimed wood, it can cover the damage that can be caused during the operation of your restaurant. It won't appear worn out due to already having a distressed appearance. So you may decide to place this wood type in areas where you expect the flooring to experience the most wear-and-tear, such as dance floors.
Design Considerations of Commercial Wood Floors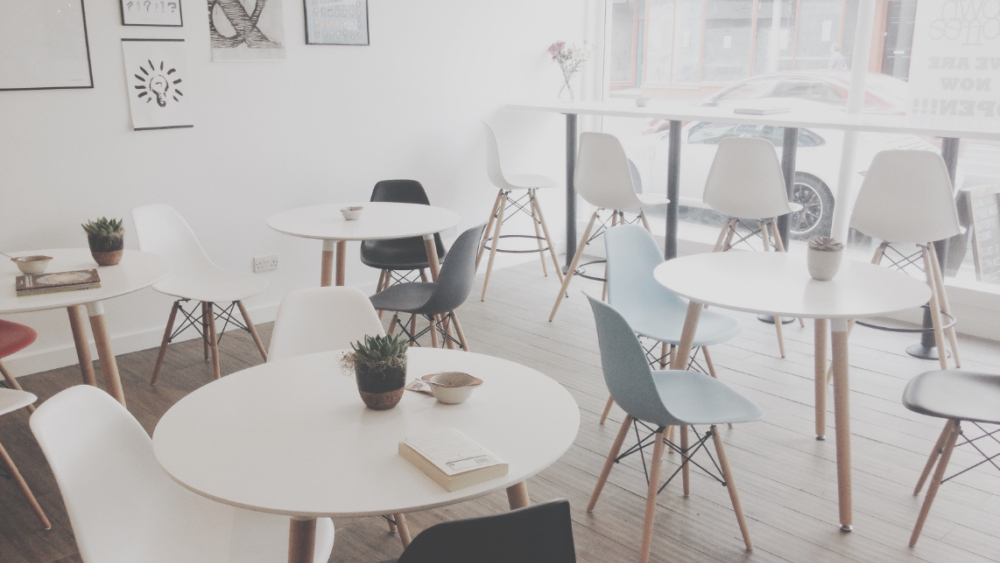 For most restaurant owners, design considerations are at the top of the list of reasons why they want to go with wood flooring. You may enjoy the warmth and sophistication that the look of wood will give to the theme of your establishment. Wood floors offer a number of design schemes that can influence how your customers will see the theme of your restaurant.
If you are operating an elegant and high-end restaurant, commercial wood products that have deep, rich colors can offer an elegance to the room. It increases the mood of intimacy and sophistication that customers feel. They know they are in a fine dining establishment while expecting the meal choices and prices to reflect this sophisticated atmosphere.
If you offer a more casual dining experience, you may decide on a lighter wood color for your dining room and bar areas as it is more inviting. For establishments that have a nautical or rustic theme, reclaimed and distressed commercial wood flooring products may be desirable.
In addition to using the color and wood grain of wood flooring to set the mood and brand of your restaurant, you also want to choose the right wood flooring when targeting a certain customer demographic, such as if you cater to families, couples, or teenagers.
Care and Maintenance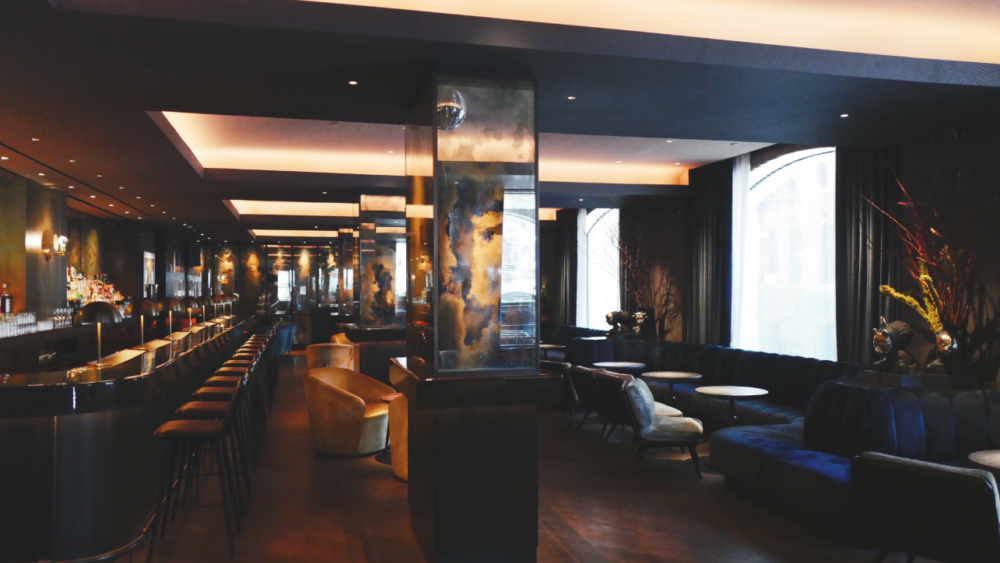 Although wood flooring can often withstand a fair amount of abuse in restaurant settings, it needs to be taken care of and maintained so it can retain its beauty and strength. Placing on the right finish can place additional properties into the wood floor so that it can become more water resistant, stain resistant and durable.
There are many different types of finishes out on the market. Selecting the right one for your wood flooring will depend on the type of wood you select for your restaurant.
Some finishes, such as lacquers, will sit on the surface like an extra layer of protection. It will take the punishment from walking shoes and dropped objects as it will slowly wear away while the wood surface maintains its luster and beauty. Over time, the finish may appear scratched as it needs to be re-sanded and refinished.
Other finishes are oil-based as it soaks into the wood flooring to seal it more from within. Tungsten oil and linseed oil helps to bring out the natural appearance of wood flooring without having the surface look shiny from the finish build-up. For your restaurant flooring, it is advisable to retreat the surface on a yearly basis to maintain its beauty and effectively seal it. Always consider the long-term maintenance and care your floors will need to make the right choice in flooring products. Then you can lessen the likelihood of damage that will require more costly repairs.
Installation and Safety Factors
When it comes to selecting wood flooring for your restaurant, you must ensure to meet all local and federal health and safety requirements. You want flooring that inhibits mold and mildew while offering high slip and trip resistance.
How wood flooring is installed can have an impact of health and safety factors. You want flooring materials where the seams can be easily cleaned while stopping as much dirt and moisture from penetrating in-between the planks. This factor is extremely imperative in places such as bars and food preparation areas.
There are several methods on how wood flooring is installed. It can be nailed or stapled in place, glued down to the floor, have the wood planks glued together in a floating floor application, or have the planks click and lock in place without nails or adhesives. The installation method you select will also need to be taken into consideration. While nail flooring can offer a solid surface, you will need to ensure that the nails and staples do not become loose or pop up from the boards as employees and customers can trip on the protrusions.
Slip resistance is also another important factor. Wait staff and guests routinely experience injuries due to slip and fall accidents on the floor. Wood floors should offer a good amount of traction for walking feet. Be aware that improper applications of finishes can cause the surface to become slippery, increasing the chances of restaurant accidents. Careful planning and consideration can allow you to select the right flooring for your restaurant. Research your options and functionality of each wood flooring option. Then pick the one that will offer your food establishment the best advantages.