Hardwood floors top many people's lists of things they'd like to add to their store and offices. A hardwood feel instantly enhances the décor of any room, while adding long-lasting durability, beauty, and low-maintenance care. With so much demand for hardwood flooring today comes several choices on the market, from different wood species and finishes to different types of flooring.
One of these choices involves the decision to use either solid or engineered hardwood flooring. Most people are familiar with solid hardwood and how well it holds up over the years, while engineered hardwoods are newer and may not have the same exposure. This can lead people looking for a long-term investment in their buildings and offices to question how durable engineered hardwood flooring is. If you're looking for a flooring that can be laid anywhere – including below grade – and that can stand up to changes in moisture level as well as years of high traffic use, engineered flooring is the material you're looking for.
Solid and Engineered Hardwood Construction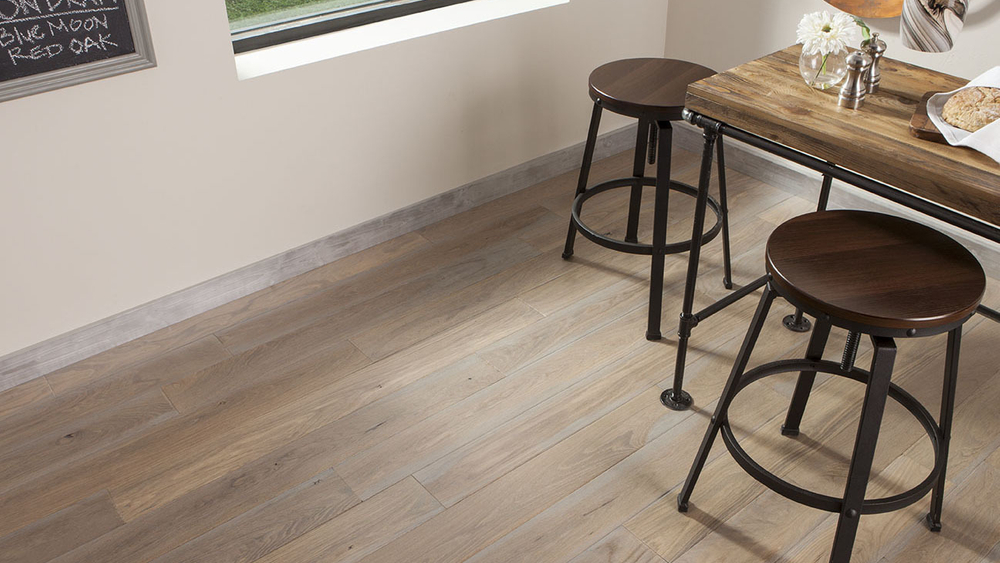 You're probably familiar with how a solid hardwood floor is made. Each plank is a solid piece of wood with the grain extending from the top to the bottom. The benefit of this is that the wood can be sanded and refinished multiple times, ensuring a long-lasting floor. This type of floor does have several drawbacks, however. Because the wood is a solid piece, it can't be installed below grade or anywhere with higher humidity or moisture levels. This is because the wood will expand with moisture, potentially causing the wood to warp or hump, and requiring replacement of the affected planks.
Engineered hardwood planks are built differently. They're still made of wood, but instead of a single plank, they're made up of many different layers. Each layer is positioned in a different direction than those surrounding it. This means that when the wood is exposed to moisture, it's much more stable and doesn't warp or hump the way that a solid hardwood floor might. For this reason, an engineered hardwood floor will last much longer in damp areas, and can be installed below grade and in places where solid hardwood cannot. So, if you have a building with a basement level, and you still want a hardwood floor to enhance the appearance of the area, an engineered hardwood floor will be a much more durable choice than a solid hardwood or a laminate.
On top of each of these layers is a veneer of genuine hardwood. The same hardwood that's used in traditional wood flooring, with the same long-wearing capabilities, grain, and beauty.
Engineered Hardwood vs. Laminates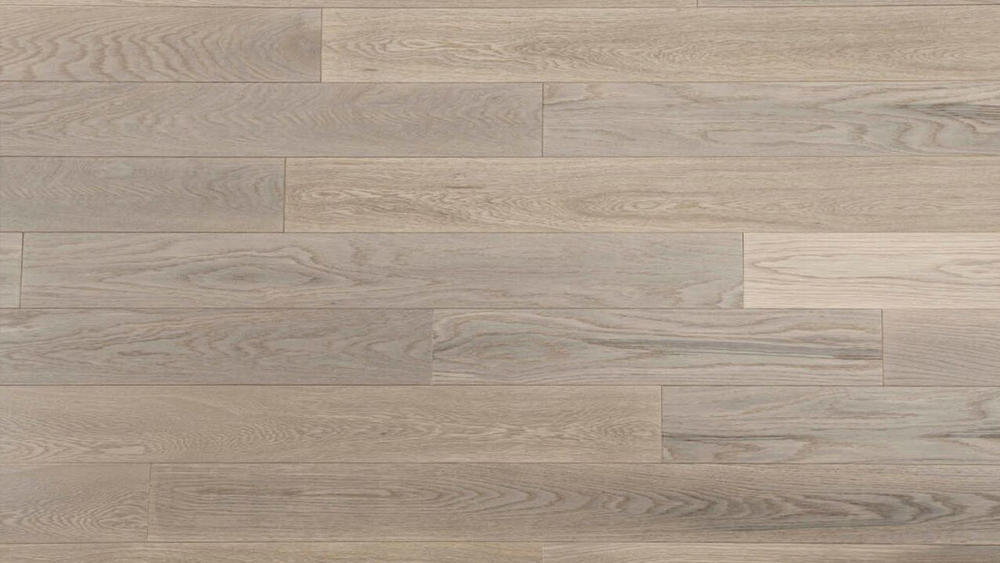 Some people may confuse engineered hardwoods with laminates, because both are technically made up of varying layers of material. The similarities, however, stop there.
Engineered hardwood is made of genuine hardwoods, with a surface that can be sanded down and refinished if necessary. Laminates are made up of various materials, such as fiberboard, that have been fused together in a lamination process. While engineered hardwood is relatively unaffected by moisture levels, due to the way that the planks are constructed, laminates cannot be installed below grade or in areas with high moisture levels for the same reasons that solid hardwood cannot; the planks are likely to swell and warp when they come in contact with moisture.
Laminates also have what is known as a photographic image layer on top, which gives them the appearance of wood. If this layer becomes scratched, stained, or otherwise damaged, it cannot be recovered. In fact, the most common method of repairing a laminate floor is the removal of the damaged planks.
Engineered hardwood has a real wood top layer. Not only is it less likely to scratch, stain, or become otherwise damaged, it can also be refinished if necessary without the expense or hassle of replacing a portion of the floor.
Engineered Flooring Finishes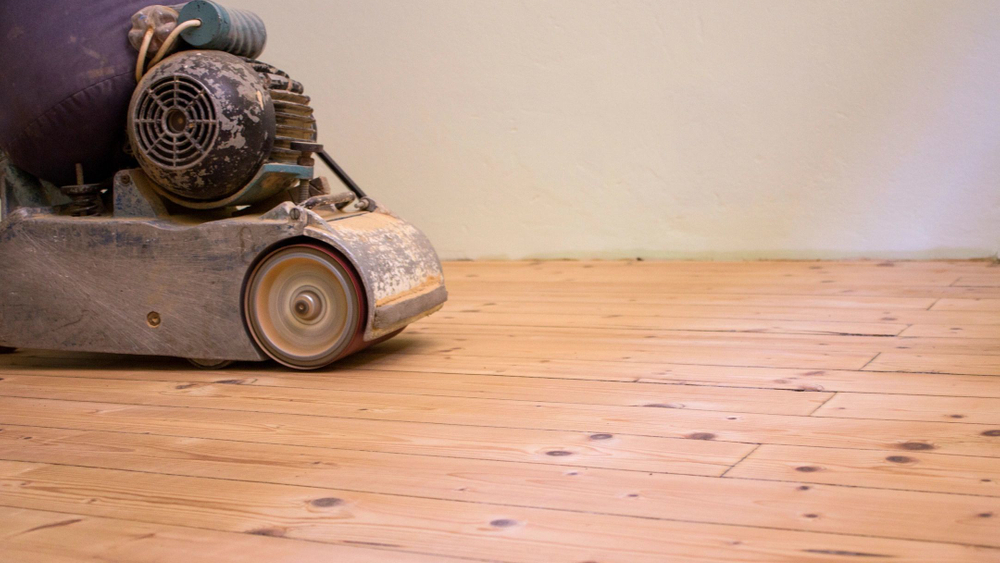 One of the nicest things about using an engineered hardwood floor is the fact that most come prefinished, with a factory applied, durable coating. This is important, because it's this finish that gives a hardwood flooring its luster and a large part of its surface durability.
Solid hardwood floors are solid both prefinished and unfinished. Unfinished flooring means the floor must be finished at the time of installation, adding time, money, and inconvenience to the job. It also delays the use of the floor by a few days, which means that you're restricted from your building or workplace while it cures. Site-applied finishes may also be subject to things such as temperature of the room or humidity levels during application, which can mean the finished floor isn't as durable as one might expect it to be.
A prefinished, engineered hardwood floor has a very durable, long-lasting finish. Finishes applied by the manufacturer can last years longer than those applied by an installer, which in turn increases the durability of your floor. This means that the floor can go years longer without needing to be refinished. It also means that you don't have to worry about things like scratches or dents in the surface of the flooring, the way that you might with laminates.
Hardwood Species and Janka Scores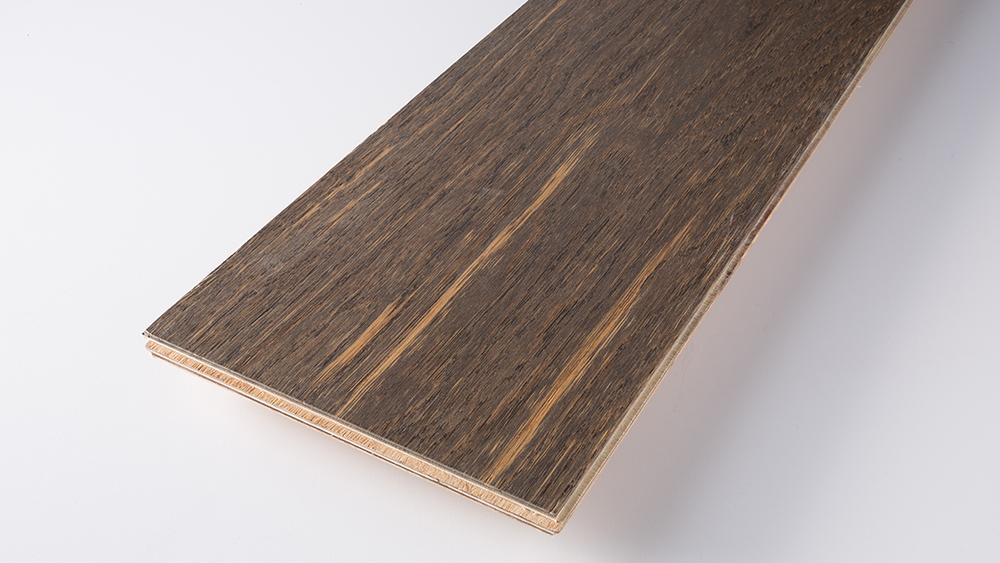 The biggest determining factor of the durability of any hardwood floor whether solid hardwood or engineered is the floor's Janka score. The Janka score refers to the hardness of the wood the floor is made of.
There are many different species of wood used in flooring, and they have a wide range of different scores and durability factors. When choosing a hardwood floor, it's important to look not just at color, grain pattern, style, and manufacturing type, but also at how durable the wood species is that you're considering.
Engineered wood floors come in a wide range of different wood species, just like solid wood floors. Some of these woods may be more durable long term than others. For example, Hickory is one of the strongest domestic hardwoods available, with a Janka score of 1820. Compare this to California Redwood, which has a score of 420. Obviously, an engineered, Hickory wood floor is going to be more durable than a solid California Redwood floor.
Most people will find, however, that a hardwood floor with a score of 1290 (Red Oak) to 1450 (Maple) will be sufficient for the normal foot traffic and wear and tear in an office or retail space. There are many domestic and exotic hardwoods with higher scores, however, which are available as engineered hardwood floors; if you're installing a very high traffic floor or the area has specific needs, using an engineered hardwood floor with a high Janka score will give you the performance you're looking for.
A Durable Choice
Engineered hardwood flooring is just as durable – and in some cases more durable – as solid hardwood flooring. Available in a wide range of wood species, finishes, and stains, you can find an engineered hardwood that meets your performance needs wherever you intend to install it, and no matter what your building's needs are. Consider installing engineered hardwoods in your office building or retail location to get a truly durable and exceptional flooring choice that meets all of your needs.