Knowing what flooring is best for your client is crucial for any architect or designer. There are many considerations to take into account, from what your clients' needs are, traffic frequency, desired look, maintenance and durability. Knowing all the details about each flooring material on the market is necessary for industry professionals to be able to do their jobs effectively and satisfy their clients.
When it comes to flooring types, three main materials are the general go-to in the commercial sector: laminate, hardwood and acrylic-infused hardwood flooring. We've created this guide, which can also be used as a student's guide to flooring, for all industry professionals to become familiar with the technical and design details of laminate, hardwood and acrylic-infused hardwood.

Laminate Flooring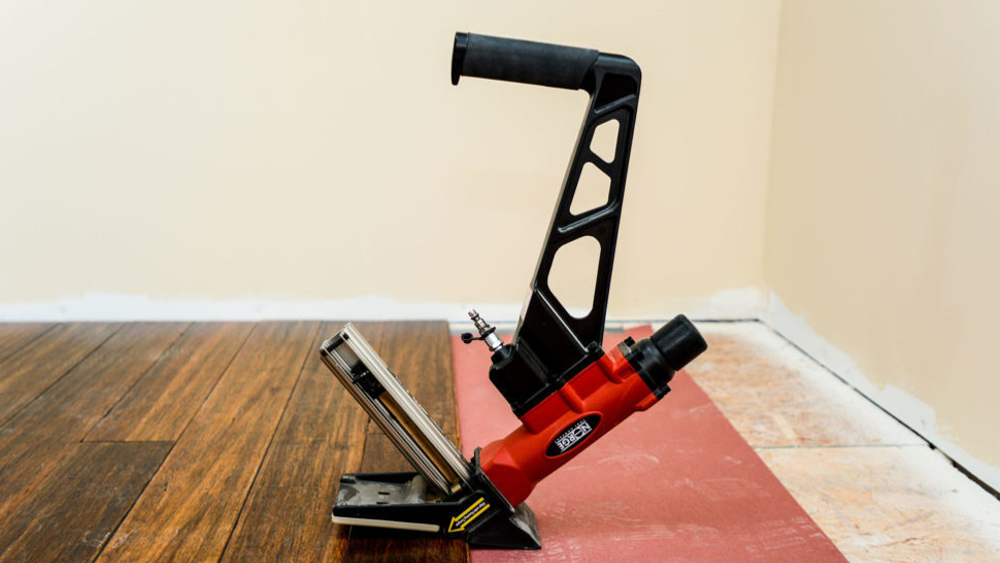 Laminate has always been popular — mostly because it is initially inexpensive and easy to install. While clients will see this as a benefit, when you look at all the attributes of it, laminate flooring may not be the best choice for their needs.
How Is It Made?
Laminate flooring is made to simulate wood flooring but is made from melamine resin and fiberboard that are laminated together. In order to achieve the wood look, the manufacturing process involves photo-technology that looks like wood and is overlaid on top of the boards. The last topcoat is a polyurethane finish, which creates a mostly scratch-resistant floor.
Pros
Because of laminate flooring's durability and initial cost, it is an attractive option for many commercial spaces and higher-traffic areas. The installation process is quick and doesn't require specialists, reducing labor costs. Most laminate floorboards come in a click-lock fashion, making the floor installation run quickly once started. This also reduces business downtime and helps clients get back to what is most important to them: work.
Laminate flooring does have a wide variety of colors, styles and sizes available, which makes this a great choice if your clients aren't too concerned about moisture or high traffic.
Cons
The cons of laminate flooring can actually deter clients from going with this flooring option. Laminate flooring is simply not moisture-friendly and, in corporate or commercial settings, this can be a deal-breaker. The boards can buckle and warp if exposed to moisture such as rain or snow (often tracked in by employees or visitors coming and going, let alone spills).
Repairing laminate is also a major concern. If the laminate flooring gets damaged, it can't simply be sanded down and refinished, like engineered hardwood flooring or solid hardwood. This means full board replacement is necessary.
To accomplish this, it also requires the removal of the boards starting from the wall and working inward toward the damaged board. Once the damaged board is replaced, all the other boards need to be reinstalled. This is also contingent on the same color and style board still being available.
Another consideration is the photo-technology. While this is a great way to simulate wood, it's simply that: a simulation. The boards end up looking repetitive and can be noticeable in larger areas where a lot of the floor is visible.
Hardwood Flooring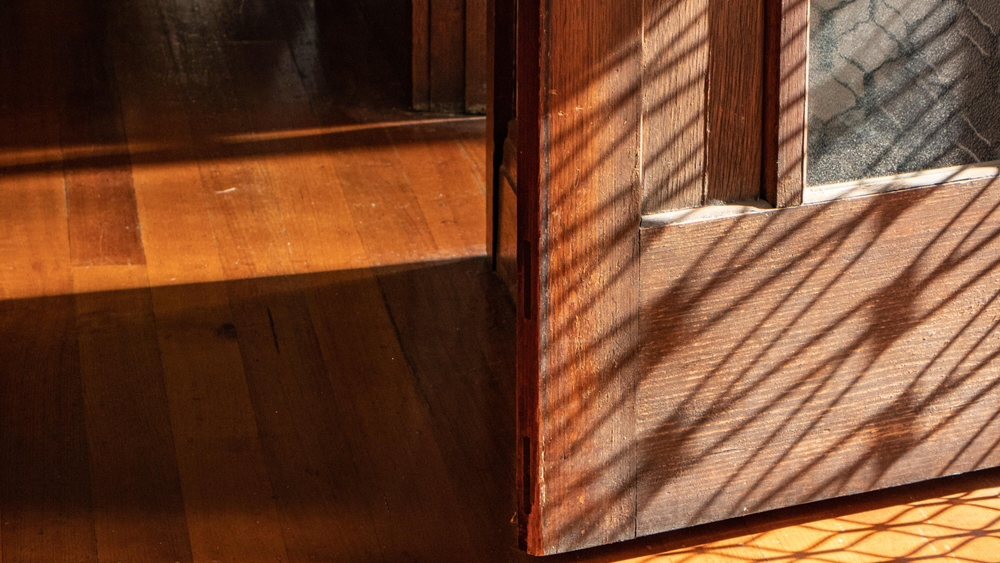 Hardwood flooring has always been a classic for its attractive look and green-friendly qualities (which is also true for engineered hardwood flooring). While it is a popular choice that has been around for ages, there are both pros and cons that need to be carefully considered.
How Is It Made?
Hardwood flooring is a non-engineered floor that is made from solid boards milled from a single piece of wood. The boards can be available in custom lengths and widths. There are generally three types of hardwood flooring based on cut. As a refresher, the cut refers to how the log is sliced and there's a difference in strength, size and durability of each.
Plain Sawn
Plain sawn cut hardwood is the most common type and, generally, the least costly. It is made by taking the raw log and slicing it vertically from top to bottom, leaving little waste behind in comparison to the other two cut types and being the primary reason that it is the least expensive cut available. However, it is low to moderately durable, which should be taken into consideration when deciding what hardwood flooring is best for your client.
Quarter Sawn
Quarter sawn cut slices the log both horizontally and vertically, taking care to slice on the radius and perpendicular to the rings of the tree. This produces four even wedges of fairly uniform pieces, making it stronger than plain sawn hardwood planks and more resistant to breaking, bowing or bending. However, it is also more expensive than plain sawn.
Rift Sawn
Rift sawn cut takes the quarter saw cut and quarters it again, sliced on a 45-degree angle. While this is less efficient and produces considerably more waste, it is the strongest of the three cuts, with the most interesting grain pattern — but it is also the most expensive as it produces the most waste.
Pros
One of the most attractive benefits of solid hardwood is that it can be sanded down and refinished many times. This means a much longer lifespan and a bigger return on investment. When working this into a design to present to clients, this is a great feature with which to lead.
But because of its high price, it tends to be best suited for high-end corporate, commercial or multi-family residential projects, all of which have significant budgets and relatively lower traffic frequency (as opposed to retail, for example.)
In the end, however, solid hardwood floors are exquisite and highly coveted among clients with money to spend.
Cons
Despite the return on investment, solid hardwood flooring does have its downfalls. Its initial cost can be rather steep, and it can be difficult to work with as it is prone to expansion and contraction depending on weather and climate. This can be a difficult hurdle for designers, architects and even installation experts. An expansion gap must always be considered and, if in a dry climate, shrinkage splitting may form and require repair. Additionally, solid hardwood is standardly ¾" thick, making it difficult to match up well with other flooring materials (often requiring an unsightly transition strip and trip hazard).
Unlike engineered hardwood flooring, solid hardwood flooring is prone to dents, scrapes and scratches, which can be a deterrent for some. If you expect high heels or heavy furniture, think twice before choosing this material.
Notably, however, solid hardwood is known to last up to 50 years when it's well maintained and installed in an appropriate setting. Knowing the difference between solid hardwood and engineered hardwood flooring is important.
Acrylic-Infused Hardwood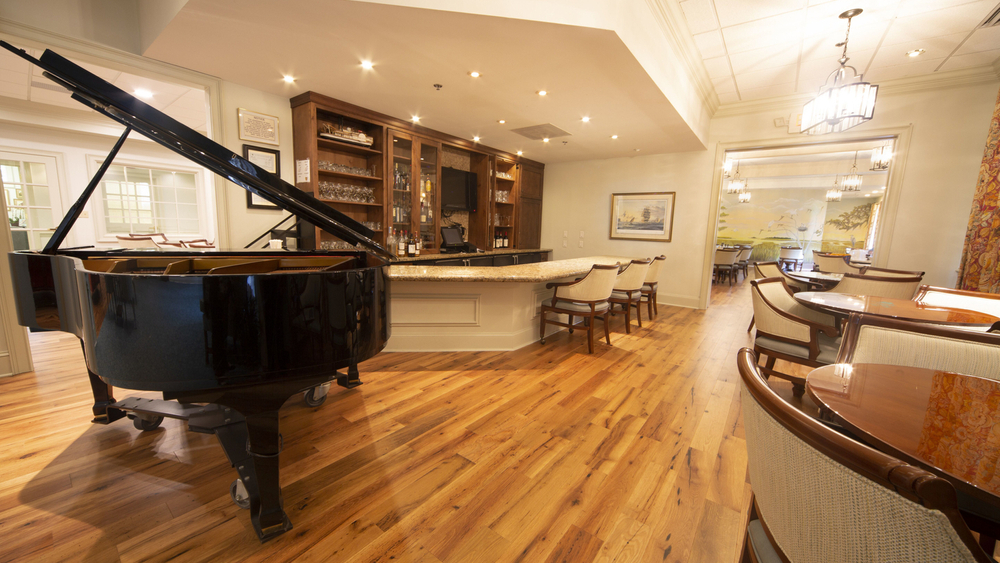 Acrylic-infused hardwood is engineered hardwood flooring and is one of the best options because of its affordability, ease of installation and durability. Although it's often confused with laminate flooring, there are considerable differences between the two.
How Is It Made?
Despite what some may think, acrylic-infused hardwood flooring, such as Nydree's, is real hardwood that has been infused with acrylic and made to withstand heavy traffic. In fact, it's 300% more durable than standard wood flooring.
The proprietary engineering process involves seven layers of marine-grade Baltic Birch adhered to marine-grade adhesive. It's then topped with a 1/10" thick acrylic-infused wood layer. The end result is an incredibly durable wood flooring that looks like solid hardwood but is much stronger. Because it's made with natural hardwood, it retains a non-uniform, natural hardwood look that clients love.
Pros
Acrylic-infused hardwood flooring is one of the most durable flooring options, surpassing both solid hardwood and laminate flooring in strength. It is relatively easy to maintain and has the same natural look as solid hardwood (as opposed to the repetitive and synthetic look of laminate).
Acrylic-infused hardwood flooring is a smart alternative to solid hardwood as it is reasonably priced and installation is fairly simple. The boards are available in multiple species, colors and sizes.
Because acrylic-infused hardwood is water-, scratch- and dent-resistant, it is perfect for heavy traffic areas such as lobbies, cafes, restaurants and even multifamily residences.
Cons
There are hardly any drawbacks for using acrylic-infused hardwood flooring. In the rare case it becomes damaged, it can't be sanded down but can be easily repaired. Thanks to its durability, however, the likelihood of this happening is quite low when properly maintained. For more information on acrylic-infused hardwood care, check out this article.
Clients may also need to consider cost here. Initial investment may be a deterrent for some, however expense is greatly reduced upon considering lifetime value. As other product category prices have increased in recent years, acrylic-infused hardwood is no longer the high ticket item it may have once been.
Making the Final Decision
Helping your client make the final decision between solid hardwood, acrylic-infused hardwood and laminate flooring means becoming an expert on popular flooring types, including knowing the pros, cons, manufacturing technology and pricing for each. This special guide can help with those decisions.
Nydree wants to help you make these decisions with confidence so you can best serve your current and future clients. To learn more about our acrylic-infused hardwood flooring, contact us today.