Architects and designers have a hard decision ahead of them when it comes to flooring. Commercial flooring products are abundant today, and with innovations in flooring technology, there are some highly durable and attractive styles out there.
Thankfully, there are a few ways to break down those decisions to ensure you pick the best material for your project's needs.
Commercial Flooring Types: Pros and Cons
Let's look at some of the most commonly used materials today and some of the features that designers can look out for.
Quarry Tile
Quarry tile is used in both commercial and residential spaces, and it's often selected for its functionality. When most of us hear 'quarry tile,' we think of the red tiles featured in high traffic spaces like restaurant kitchens. "Many commercial buildings use quarry tile because it hides stains well and is very durable," says Lee Wallender with The Spruce.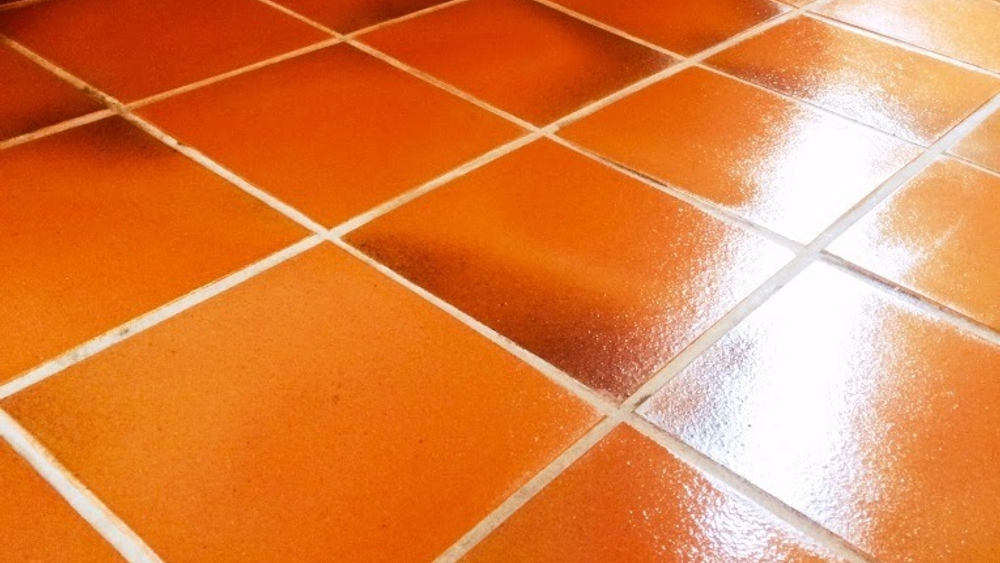 Quarry tiles also come in other colors, usually neutral earth tones. "While you may not find quarry tiles in the bedroom, you can often find them in a sunroom, entryway, or even a kitchen," says Lee.
While quarry tiles offer durability, they only come in limited sizes and usually require a seal if you need them to stand up over time in areas with lots of foot traffic.
Vinyl Flooring
Vinyl is a budget-friendly product for flooring and comes in a wide variety of patterns and colors. However, it's not always cheap: There are luxury vinyl plank products that look better and will last longer than cheaper vinyl materials.
One of the biggest issues with vinyl flooring is that its appearance can dull easily, especially in high-traffic spaces. According to Andreana Lefton and Bob Vila, "Yes, vinyl is rugged, but you must maintain it correctly to retain its good looks. To prevent damage, use rugs or mats in heavily trafficked areas, and put coasters or protective felt tips on the base of furniture legs. When moving furniture, employ sliders or a sheet of plywood."
You also need to be careful about the chemicals used in some vinyl flooring. Depending on how it is made, there is the possibility of VOCs and toxic chemicals that can make it a dangerous choice.
Epoxy-Finished Flooring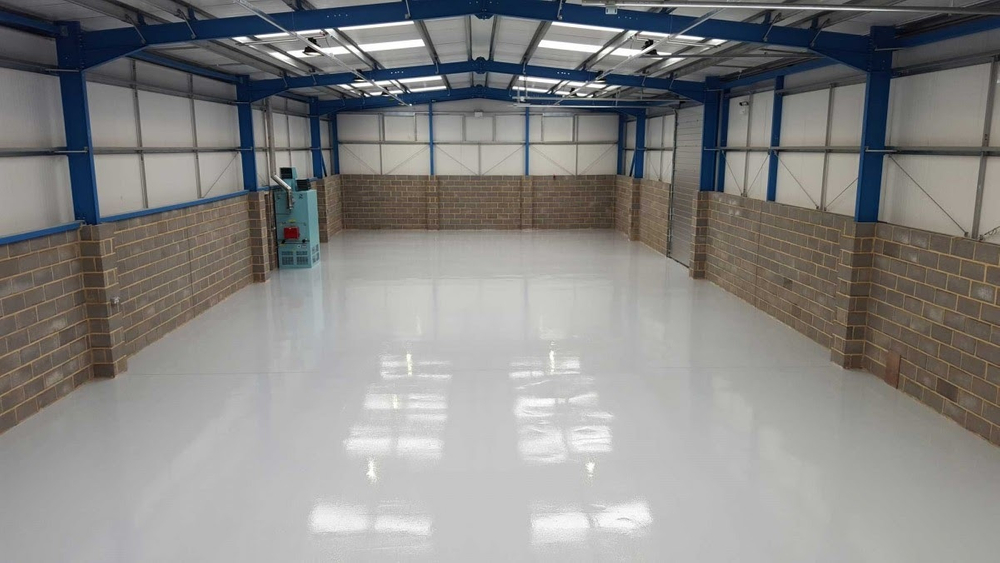 Many warehouses, garages and industrial spaces will feature an epoxy floor. Epoxy is a coating applied to a base substrate (usually concrete), and generally requires a primer and finisher coat. It offers a highly durable and easy-to-maintain solution for commercial spaces, and the shine of the floor can even make the area seem brighter.
The drawback to epoxy flooring? It's not a look that works for every style of building, and might not be suitable for luxury commercial spaces.
Carpeting
Carpet is a popular flooring type, especially in office applications. It's affordable and comes in a wide variety of styles and colors.
But for commercial spaces with lots of visitors, carpeting can wear down quickly. Carpeting can also stain easily, and it's known to harbor indoor allergens.
"Carpet has long been regarded as the enemy when it comes to allergies and asthma because it traps allergens, dust, pet dander, and more. Many experts advise those with allergies and asthma to remove carpeting," writes Cheryl Simmons for The Spruce.
Laminate
Laminate flooring, like vinyl, is relatively new (compared to carpeting and wood flooring), and has grown in popularity in recent years because it's so affordable. It comes in a wide variety of styles, which makes it attractive for designers that need a budget-friendly option for flooring.
One of the biggest drawbacks of laminate flooring is installation, but designers have options. Per Jill Canty for BuildDirect, "Glueless click laminates are the most commonly available and the easiest to install. Glued laminate is much stronger, but it costs more money and time to install. You can also find pre-glued laminates, with a glue that adheres with moisture and laminates with underlays already attached."
Another drawback: Laminate flooring can wear down more easily than other types of flooring, especially in busy spaces. "Most laminate flooring is guaranteed for between 10 and 30 years. In some cases, you may even receive a lifetime warranty," writes Jill. "Make sure you follow the manufacturer's installation and maintenance instructions, or you could void your warranty."
Hardwood
Hardwood flooring has been around since the 1600s and has stayed on trend because it offers warmth and style to any space.
However, hardwood requires quite a bit of maintenance to keep up its appearances, and it can be costly to keep it looking good — that's a big concern for building owners with high-traffic commercial spaces.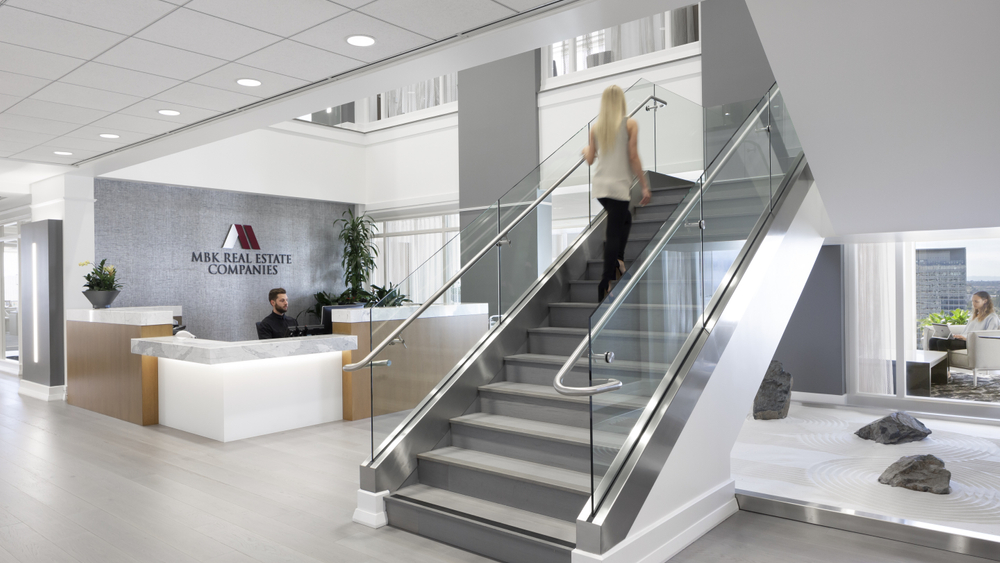 Engineered Hardwood
Engineered hardwood offers a cost-effective and sustainable option for building owners who want durable wood flooring that will enhance the design of their space without losing its appeal over time.
Acrylic-infused hardwood flooring from Nydree offers designers plenty of finishes and colors to choose from. Nydree's hardwood flooring is 300% more durable than standard wood flooring, so building owners know their look will last for decades.
What to Consider When It Comes to Commercial Flooring
The materials you choose for flooring can make a big impact on a building's style. They're the foundation of the space you're designing.
Commercial building design should be a balance of functionality and style, and the flooring you specify will go a long way to contribute to the look of a space. It's possible to find a flooring material that's both high-performing and beautiful — if you know where to look.
But style isn't the only consideration. Commercial flooring should also include the following features:
Withstands High Traffic
Commercial spaces that are open to the public will see a lot of visitors, and if you're designing a retail, corporate or hospitality space, you'll want to account for all of the feet that travel across the flooring, especially in entryways and exits.
Requires Only Light Maintenance
The flooring shouldn't be a pain to maintain for the building owner, especially if they're keeping the space sanitized during a pandemic. Some flooring materials need frequent cleaning or finishing — or can only use select cleaning products — which can be a big turn-off for building owners in the long run.


Provides Long-Term Solutions
Commercial flooring should last for the long run, and high-quality products will have a warranty that guarantees that. Knowing that the flooring they choose will last can help put building owners at ease if they're investing in something high quality.
Includes Sustainable Flooring Options
New and existing buildings need to contribute to a more sustainable future, and the flooring you choose can contribute to that. By working with sustainable flooring materials that won't give off VOCs and can conserve natural resources, commercial architects and designers can guarantee a longer life for the building they design.
Stylish Solutions for Commercial Flooring
Commercial architects have plenty of options for flooring. But when it comes to a durable, stylish and high-performance floor, acrylic-infused hardwood is a product that truly delivers.
Nydree's wide selection of products gives designers solutions for luxurious flooring that's sustainable, stylish and low maintenance. The acrylic-infused product won't degrade over time and can even handle bleach cleaning if sanitization is needed.
Take a look at our gallery and check out some of the spaces that feature Nydree flooring for some inspiration. When you're ready to start your project, get in touch with us for a quote.