Commercial engineered hardwood flooring offers solutions around the world, but it can still be value-engineered out of final design plans for a few reasons. Here are the most common reasons why that happens — and how architects and designers can prevent it to ensure the best flooring solution for their client and a better final project.
Why Engineered Hardwood Is Value-Engineered
It's Misconstrued as Not "Real' Hardwood
One of the most common reasons engineered hardwood gets engineered out of a project is because of a common misconception: that the product is not "natural hardwood." In actuality, high-quality engineered wood products, like those made by us at Nydree, are made with real wood. The real wood is pressed with additional layers of plywood and finished with a thick acrylic infusion to support the product's performance.
Unlike traditional wood flooring, commercial engineered wood is not made from one piece, making engineered hardwood a more stable option than other types of flooring. The acrylic-infused veneer and plywood substrate offer stability when it comes to changes in moisture and temperature.
"Engineered hardwood flooring comes out the winner here since its plywood base is less susceptible to warping caused by moisture," writes Lee Wallender for The Spruce. "Engineered hardwood has slightly better performance in humid locations since its plywood construction makes it more stable."
Budget Concerns
Budget also dictates which products wind up making the final cut during construction. But cheaper options aren't always a long-term solution — so it's key to consider cost, along with long-term maintenance and replacement. For example, laminate flooring might be cheaper upfront but might need more replacements over the life of the building than a more durable engineered wood option.
"Operating schedules and standards of maintenance vary from building to building; there is great variation in these costs even for buildings of the same type and age. It is therefore especially important to use engineering judgment when estimating these costs," explains the Whole Building Design Guide.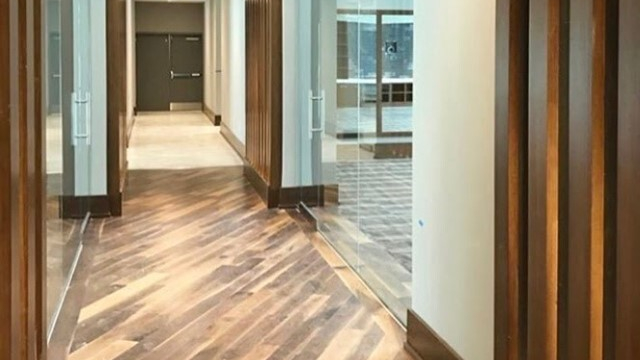 Getting a Product Through Value Engineering
Architects can prevent high-quality products from being value-engineered out of a project so that their clients get the best flooring option for their design — without just looking for the cheapest option.
"Value engineering is closely associated with cost-cutting, but that sells the practice short. The goal isn't to trim the bottom line, but to maximize function at the lowest possible cost," according to Architect Magazine.
There are a few ways architects and designers can help to ensure their clients get the best results on their designs. A list or comparison sheet might help explain the features and functionality of available flooring options.
Architects can help clients understand the benefits of engineered hardwood on commercial projects by offering case studies and examples of similar projects. Most manufacturers will provide downloadables and brochures on their site to offer any visual support and specification information.
"Product quality is still the name of the game," according to Architect Magazine. However, part of that product's quality includes partnering with a manufacturer who's committed to the success of the project and extending the life of the design.
Commercial Flooring Success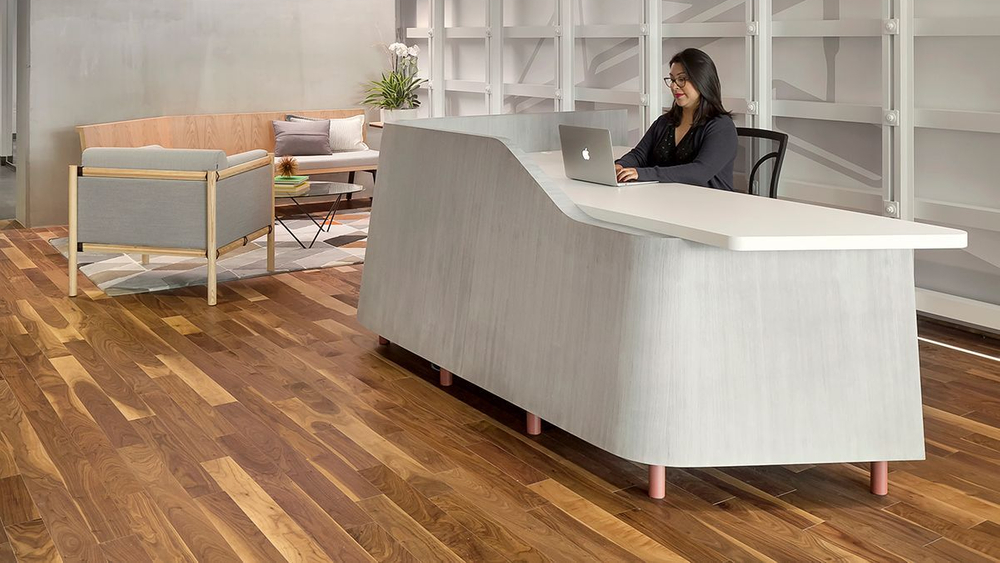 Acrylic-infused hardwood flooring gives architects and building owners a product that can elevate their design and ensure a long-term solution. Commercial flooring products should include the following features to guarantee that success:

Endures high traffic areas: Hospitality spaces, corporate offices and public buildings all need a floor that can withstand heavy traffic over time. Choosing a cheaper flooring option will be less expensive upfront, but it requires frequent maintenance and perhaps even replacement costs.

Offers long-term reliability: Commercial flooring products should last for decades. The most reliable products will have a warranty to ensure that.

Meets today's standards for sustainability: Architects can guarantee a better, healthier building design with products that conserve resources and give off low VOCs. Some flooring products can help achieve LEED accreditation on a project, as well.

Comes with low maintenance: All flooring materials need some amount of cleaning or finishing, but shouldn't require constant upkeep if it's a durable enough product. Some engineered wood products can even be safely cleaned with bleach.
The value engineering process is a necessary step of every construction project, and careful attention to this step can help ensure all project goals are met.
Using an acrylic-infused hardwood product might come with skepticism, but at Nydree, we work with architects and designers to find the best flooring solution for your commercial and residential projects. Check out a few of those projects to see how engineered hardwood flooring enhances commercial building designs everywhere.
For more information on how we can help your next project, click here.